Getting Out There: RoadTrip News & Views
Directory of Articles

In the summer of 2007, Peter Thody and his wife Carole left their home in Leeds, England to embark on a 4,000-mile American road trip. Hotel bookings in Chicago and San Francisco established the bookends of the trip, a rental Jeep provided the means of getting from A to B, but the four weeks in between were left to write their own story. [Click here for the Adventures]
---
December 22, 2008
New Year's Resolution: Make Those Road Trips Happen! by Carol White
Yes, it is New Year's resolutions time - time to examine our priorities and maybe shuffle them a bit. Do you think that you are too busy or too broke to go on a road trip this year? Think again. With a little planning, you can do it for less and shake off some of the anxiety that has dogged everyone in this shaky economy. Carol White resolves to get more enjoyment from life by making those road trips happen.[Read the story.]
---
December 12, 2008
Seeing San Diego by Bus, Train & Trolley, by Jaimie Hall-Bruzenak
San Diego offers visitors a wide range of attractions and activities, and the moderate climate means few rainy days. Even better, San Diego's mass transit system is so easy to use that there's no need to drive your vehicle or hassle with parking. Native San Diegan Jaimie Hall Bruzenak tells you how to enjoy the city by bus, train and trolley. [Read the story.]
---
November 28, 2008
Montana, Where Men Are Men, and the Coffees Are Skinny Latte, by Peter Thody
Peter Thody had the wrong idea about Montana from the get-go. A single episode of a 1970s TV series and a misunderstanding about the location of a Clint Eastwood movie had led this U.K.-based writer to imagine some romantic, rough-and-ready place - a fairly inaccurate image, it turns out. Join him as he goes in search of a land of outlaws and gunfighters, and discovers instead a state of arts communities, antiques shops and sushi bars. [Read the story.]
---
October 31, 2008
Cowboys, Rodeos, Grizzlies and Geysers: Some Wonders of Wyoming, by Peter Thody
Driving through the wide open spaces of the eastern part of the state, then across the Bighorn Mountains, Peter Thody falls for Wyoming in a big way. Cody serves up some Wild West history, gunfights and a rodeo, but it is the beauty of Yellowstone, America's first and best-loved national park, that takes his breath away.[Read the story.]
---
October 17, 2008
Greenland by Plane, Boat and Dog Sledge, by Lea Lane
The first thing you need to know about Greenland is that there are no roads - at least not outside the towns. So if you find yourself on the world's largest island, hankering for a road trip, you'll have to enlarge your idea of "vehicle" to include small planes, fishing boats and dog sleds. Lea Lane takes you on a whirlwind tour. [Read the story.]
---
October 3, 2008
A Genealogy Road Trip - Florida to Canada, by Anne Sponholtz
A road trip in search of your ancestors can mean traveling back to places once familiar, or often discovering the unfamiliar. Come along on a road trip from Florida to Canada as Anne Sponholtz visits some popular tourist destinations, finds some ancestors she didn't know she had, and offers some advice for others searching for family roots on the road. [Read the story.]
---
August 29, 2008
Peaches, Catfish and Camellias: A Road Trip Through Georgia, by Anne Sponholtz
Driving through the center of Georgia is much like looking through a kaleidoscope. With every turn of the road, the landscape shifts, sometimes offering a subtle change in form or color, other times presenting an entirely new aspect. Anne Sponholtz takes you on a 470-mile trip north through peach orchards and pecan groves, with a sobering stop at a Civil War prison camp and an exhilarating ride into the Blue Ridge Mountains. [Read the story.]
---
June 6, 2008
Into the Deep, Deep Past of Texas, by Aaron Reed
The history of the Lone Star State - the history before the Kawakawa and Comanche, before the Spanish and the settlers from the East - is engraved in stone. Those rocks tell a turbulent story of environmental and biological change that makes the present-day "crisis" of global warming appear trivial. Aaron Reed takes the family on a road trip into the geological past, when parts of Texas now 1,500 feet above sea level were, literally, the bottom of the ocean. [Read the story.]
---
May 30, 2008
Friday Escape, Small-Town Hospitality, by Aaron Reed
Some road trips start out all wrong and then somehow end up right. That's what happens when Aaron Reed sets out on Memorial Day weekend to visit a Texas creamery and tour a legendary brewery. Alas: no ice cream, no tour. What he finds instead is some old-time hospitality in a corner of Texas where German, Czech and Mexican traditions mingle companionably over music and beer. [Read the story.]
---
February 29, 2008
Cedar Key: A State of Mind by Anne Sponholtz
Each summer, Anne Sponholtz heads to Cedar Key for a weeklong vacation on the Gulf Coast of north Florida. The tiny village has its share of ghost stories and pirate tales, and Jimmy Buffett once sang nostalgically about it. But it wasn't until she made a midwinter visit to the quiet island community that Anne understood what it is about Cedar Key that keeps bringing her back. [Read the story.]
---
---
January 25, 2008
Death Metal and Empty Streets: The Charm of the "Tall Corn State," by Peter Thody
Peter Thody visits Iowa, the state many believe provides a window into how America used to be: a simpler, more innocent way of life. And while credit cards are indeed still viewed with suspicion, Thody struggles to imagine Doris Day attending a death-metal disco or Pa Ingalls searching for work along a climate-controlled skywalk. Like everywhere else, the "Tall Corn State" is changing -- and not always for the best. [Read the story.]
---
January 4, 2008
Looping Through the Panamints by Del Albright
In Death Valley National Park, in the Panamint Mountains of eastern California, is a canyon loop road that takes four-wheelers through a harshly beautiful landscape and 150 years of pioneer history. Del Albright lets some air out of his tires and heads down the trail. [Read the story.]
---
December 21, 2007
Holidays in the Texas Pineywoods by Aaron Reed
Christmas in East Texas is scented by pine woods and coffee, and bright lights appear in town squares and oil fields to illuminate memories of eras long past. Aaron Reed takes a couple of holiday road trips -- one to Marshall, the other to Kilgore -- to discover the spirit of the season. [Read the story.]
---
December 14, 2007
Thody's American Adventure: Chicago to the Mississippi by Peter Thody
In the summer of 2007, Peter Thody and his wife Carole left their home in Leeds, England to embark on a 4,000-mile American road trip. Hotel bookings in Chicago and San Francisco established the bookends of the trip, a rental Jeep provided the means of getting from A to B, but the four weeks in between were left to write their own story. The first adventure took Thody to Illinois, where he discovered some odd examples of Americana: a 110-ton coffee bean, a 2,000-foot drill bit and a seemingly endless supply of artistically rusty, vintage farm implements. [Read the story.]
---
December 14, 2007
An Old Highway Leads Snowbirds to the Florida Sun by Anne Sponholtz
Snowbirds traveling to Florida's West Coast are treated to a 66-mile road trip along U.S. Highway 301, an old-time road that serves as a connector between one interstate system and another. Anne Sponholtz traveled U.S. Highway 301 as a youngster when her family vacationed in Florida each summer. Recently, when she set out in her RV to see what this rural section of highway in North Florida had in store for snowbirds, she discovered orange juice, pigs, a county seat, horse farms and a state park along the way. [Read the story.]
---
December 7, 2007
Anchorage to Seward on Alaska's Highway 1 by Megan Edwards
With a single day to explore the vastness of Alaska, Megan Edwards skipped the package tours and picked up a rental car. Her solitary road trip along Alaska's Highway 1 reveals America's last great frontier in all its autumn glory - birch trees, glaciers, moose and all. [Read the story.]
---
November 30, 2007
Austin Live: An Insider's Guide to Music, Restaurants & Roadside Attractions by Aaron Reed
Sometimes it seems that all roads lead to Austin. Once a sleepy college town and provincial capital, Austin is now the 17th-largest city in the country and a major center for high-tech innovation, and it hosts 19 million visitors a year. A good number of them are music fans making a pilgrimage to the self-proclaimed "Live Music Capital of the World." Aaron Reed takes a break from the open road to lead an insider's tour of clubs, restaurants and off-beat attractions in his hometown city. [Read the story.]
---
November 9, 2007
The DARPA Urban Challenge 2007: Defining Moments in Robot History by Mark Sedenquist
Thirty-five teams of robotic, mechanical, automotive, and artificial intelligence engineers gathered in Victorville, California in late October to participate in the National Qualifying Event of the DARPA Urban Challenge. Unlike the prior events where autonomous vehicles were challenged to find their way around an off-highway course, this year's event required that these specialized robots be able to drive in an urban setting, navigate traffic circles and stop signs, and make decisions based on scenarios presented to them...[More]
---
---
October 21, 2007
Beyond the Grand Canyon: 4 Sensational Side Trips by Suzanne & Craig Sheumaker
Many road trippers head into the Southwest with a single mission: to see the Grand Canyon. They are so intent on looking out over the Canyon's grand vistas that they skip other attractions along the way. Suzanne and Craig Sheumaker have a different mission: to introduce four of the Canyon's close neighbors and give visitors reason to pause a little longer in this extraordinary region...[Read the story.]
---
October 1, 2007
Sunday Drive in the Texas Hill Country by Aaron Reed
After a late night with friends and a lazy morning recovering, Aaron Reed had an urge to get out of the house and go for a country drive. The relief he sought was vertical: the lush, shadowed valleys and craggy ridges of the Texas Hill Country. It was a Sunday drive, and by the end of the day his spirits were restored by the fresh air, a collection of Burma Shave signs and a champion maple tree decked out in its first fall finery...[Read the story.]
---
September 23, 2007
Off the Beaten Track in Eastern Idaho
Sheep Falls on the Falls River by Dennis Weaver
When Dennis Weaver saw the new sign, his heart sank: "Sheep Falls-4 Miles." His favorite picnic spot, one of the most scenic places in eastern Idaho, had been discovered. Would the road be thronged with SUVs? Would the falls be crowded with campers and picnickers? Dennis headed down the little dirt track with trepidation, and came back with this report...[Read the story.]
---
September 9, 2007
A Road Trip Through Castles and Colors by Del Albright
Mountain road trips are often daunting adventures, but the La Sal Mountains, in eastern Utah, can be explored in an easy daylong ride along the La Sal Mountain Scenic Loop out of Moab - and all you need is an SUV. Del Albright says fall is the season to do it, when the brush fields glow red alongside the stands of gold quaking aspens....[Read the story.]
---
September 9, 2007
Sweet Water, Swollen River by Aaron Reed
The rain clouds looming on the horizon did, in fact materialize into record-setting rain and floods, but not before road tripper Aaron Reed had a chance to look for wallabies and go kayaking on an ancient canal in western Texas. No canned mutton, though...[Read the story.]
---
September 3, 2007
Seeing the Smokies on the Newfound Gap Road by Megan Edwards
On a recent trip to the Southeast for a summertime conference, Megan Edwards found herself with time on her hands and a favorite road trip calling her name. She headed straight for Great Smoky Mountains National Park, whose misty vistas and rhododendron-covered hillsides attract more visitors than any other national park in the country. Crowded? Yes. But a day spent traveling the Newfound Gap Road, even in high summer, offered nothing but beautiful, green forest solitude....[Read the story.]
---
August 26, 2007
Walla Walla Winery Tour
by Tamara Dwyer
When Tamara Dwyer's family settled in the Walla Walla Valley in the early 1900s, it was best known for growing wheat, onions, and asparagus. That changed 40 years ago, when commercial vintners discovered an old-time secret: The volcanic soils and watersheds of this valley, which stretches from eastern Washington into Oregon, produce excellent wines. On a homecoming roadtrip last July, Tamara made a tour of three wineries and contemplated the importance of strong roots...[Read the story.]
---
August 19, 2007
Time Out on the Third Coast
by Aaron Reed
A drive south from Austin on a hot summer weekend takes road tripper Aaron Reed on a journey home to Rockport and Port Aransas, on the Gulf coast of Texas. Here he paddles his kayak, eats grilled shrimp and tuna tacos, and has a chance encounter with a giant blue land crab. It's one of the reasons he loves this place so well -- there's no telling what will show up...[Read the story.]
---
July 29, 2007
USS Alabama Memorial Park
by Chad Whitney
In New Orleans, we don't often get to see military equipment. We do have one really great annual air show, and an occasional natural disaster--namely Hurrican Katrina in 2005--brings almost every military vehicle known to man to town. Besides these events, however, it's necessary to take a road trip to see some military equipment up close. I have always loved visiting the World War II battleship USS Alabama, on display at Battleship Memorial Park in Mobile...[More]
---
July 15, 2007
See Rock City
by Megan Edwards
SEE ROCK CITY. Big. Bold. Easy to read, even for a four-year-old. Ever since I deciphered the command while driving by old barns on family road trips, I've been determined to obey. "It's just a tourist trap," my dad would say, but that never convinced me I shouldn't make a pilgrimage someday....[More]
---
July 1, 2007
Picnic on the Mesa Falls Scenic Byway
by Dennis Weaver
My brother rolled in. He and his wife were just completing an 11,000 mile road trip in five weeks. They live in Fairbanks, Alaska, and had flown into Boise, Idaho where they had rented a car-with unlimited mileage, of course. They had driven across the Southwest, through Florida, down to Key West, and then back and up the Appalachian Trail. Now they were headed back to Boise and had stopped off to see us in eastern Idaho...[More]
---
---
| | | |
| --- | --- | --- |
| | | |
| | Jetta + Teardrop = Roadrip to remember! | |
| | | |
June 17, 2007
RoadTrip to the Florida Keys
by Chad Whitney
Since I have been a teenager, I have always dreamed about kicking off the loafers and bare footing across the Florida Keys. I am not so certain why I have always been drawn to these little islands at the end of the world, but I finally made it there. A few months ago, my wife, daughter and I climbed into my 2000 Volkswagen Jetta TDI for a long-awaited roadtrip. It was going to be nice to be on the open road once again. This time we had an extra attachment in tow, our 1938 replica teardrop camper...[More]
---
| | | |
| --- | --- | --- |
| | | |
| | Ruth Mine: the old school house | |
| | | |
March 11, 2007
Gold, Ghosts & Glory Holes
Exploring the historic Ruth Mine
by Joel Briggs
A side trip upon your next visit to the Death Valley area could include a visit to a rarely visited gold mine a few miles south of the park. The Ruth Mine, originally called the Graham-Jones Mine, started production in 1899 under the direction of Doug Graham and S.S. (Smiley) Jones. Situated in the Argus Mountain Range, it is located 14 miles north of Trona in Homewood Canyon...[More]
---
March 4, 2007
Off-Road and Inside the San Rafael Swell
A Utah Adventure
by Del Albright
Fifty miles wide and 30 miles long of nearly undiscovered rugged landscape beauty, the San Rafael Swell area of Utah blew off my driving gloves! Wow, was I impressed. Formed millions of years ago by geologic upheavals, this truly is a "swell" in the earth's surface. Uplifted craggy rocks have been beaten, battered and carved by erosion, wind and water to make this off-pavement SUV road tip one for the record book...[More]
---
January 29, 2007
The Most Boring Highway in America
Across Arizona on Interstate 8
by Robert Schaller
I had to work in Yuma, so I drove from Phoenix the night before. The romance of a road trip is intense at night. It's you, your thoughts, maybe a companion, the dash lights and radio, in an electromechanical bubble shooting along alone in the dark. There are other cars and trucks, but they exist in their world while you are alone in yours. I've always loved driving at night...[More]
---
January 14, 2007
Commercials on Wheels
Funny Signs on a Roll

Check out these amusing graphics from around the continent!
---
December 31, 2006
Road Trip Into Arizona's Past
A Road Trip through Verde Valley
by Robert Schaller
While cruising along a highway in central Arizona, it occurred to me that if you wanted to see Arizona history in three dimensions, Verde Valley is the place to go. No other location in Arizona offers such a complete and vivid glimpse into Arizona's fur-trading, ranching, farming, mining, railroading, and rip-roaring Wild West past...[More]
---
December 17, 2006
The World's Largest Outdoor Art Gallery
A Road Trip to Utah's Nine Mile Canyon
by Del Albright
This off-highway road trip is for anyone with an SUV who loves history, artwork, and majestic scenery, combined with a little four-wheeling. "Nine Mile Canyon" is actually a misnomer because this rugged rock-walled canyon outside of Price, Utah is more like 30 miles long, and every bit of it a head turning, eyeball popping experience....[More]
---
November 12, 2006
Last Camping Trip of Fall
by Dennis Weaver
The road along western Wyoming's Greys River seems to go forever... We had gotten away from home late and it was dark. In the headlights, the road seemed even longer. Finally, the road narrowed from a wide two-lane gravel road to something not much wider than a single lane and we started looking for camping spots. A promising road, not much more than a double track trail, led toward the river in the dark and we turned down it...[More]
---
September 17, 2006
How to Make a Speed Run
by Mark Sedenquist & Judy Carter
Whenever I can, I like to mosey on a road trip. What luxury is greater than having the time to let the spirit of the moment determine your route and destination? But the reality is that few of us have enough time to mosey to the grocery store, much less on a cross-country journey. Even when we take road-trip vacations, we're usually in a big hurry to get somewhere so we can begin to "relax" in earnest...[More]
---
September 3, 2006

Road Trip to Old Nevada
Pioche, Ely, Baker, and Great Basin National Park
by Mark Sedenquist
Time machines are works of fiction, but a car, a tank of gas, and Highway 93 are all it takes to travel back to the Nevada of yesteryear. A trip north from Las Vegas to Ely and Great Basin National Park is not only a 600-mile road trip through ancient geological wonders, but also a journey into the Silver State's wild and wooly historic past... [More]
---
July 23, 2006

Legends of the Falls
RoadTrip to Northern California's McArthur-Burney Falls State Park
by Del Albright
About an hour east of Redding, California on state highway 299 is a wonderful watery road trip destination. Burney Falls is a set of waterfalls like none other I've ever seen. I can still feel the mist on my face and see the cascading beauty of two side-by-side waterfalls. ... [More]
---
July 16, 2006

Wow! Snyder's Powwow!
The 32nd Annual Gathering at the Snyder Family Ranch near Valley Springs, California
by Del & Stacie Albright
What do you get when you mix wonderful spring weather with Native American ceremonial dancing, rocks, crafts, gems, music, and food; and then throw in some down home fun? You get the Annual Snyder's Valley Springs Powwow. 2006 marked the 32nd year for the Pow Wow, as the locals call it. It's a road trip worth taking... [More]
---
June 11, 2006

The Sundial Bridge
Redding's Not-So-Hidden Jewel
by Carol White
Driving along Interstate 5 near Redding, California, you wouldn't guess that a glistening jewel lies just west along the Sacramento River. Nestled in Turtle Bay Exploration Park, the Sundial pedestrian bridge was completed in 2004 and connects the two sections of the park with grace and splendor.... [More]
---
April 23, 2006

RoadTrip Death Valley
Racetrack Playa & the Mysterious Sliding Stones
by Mark Sedenquist
Living in Las Vegas, Nevada, I find it easy to imagine that all that goes on around us can be explained or manipulated by other humans. The growth of a city of nearly two million residents in one of the driest places in the Americas, the wonder and artistry of the various strip performers and shows and the sheer exuberance of a municipality that seems to thrive ... [More]
---
April 16, 2006

A View to a Swell
Interstate 70 through Eastern Utah
by Mark Sedenquist
Many road trip enthusiasts have a creed that goes something like this: "To see the REAL America you have to travel two-lane back roads." Well, I am going to let you in on a little secret - one of my favorite back road drives is a six-lane Interstate highway in eastern Utah... [More]
---
March 12, 2006

Western RoadTrips
Wildlife Viewing in Early Spring
by Dennis Weaver
In early spring, the snows are drifted deep in the high country forcing the deer and elk to the foothills. You'll find them congregated on the south and west-facing hills exposed against the snow or bare slopes. Often, you will see them by the hundreds. This time of year, you'll also find... [More]
---
February 16, 2006

RoadTrip into the Western Past
Death Valley Trails to Chloride City
by Del Albright
It seemed like months since he had tasted a decent drink of water. The sun felt like it was burning a hole through his old miner's hat. His lips were long since chapped beyond recognition, but he wanted to find that pot of gold he'd been looking for... [More]
---
January 8, 2006

RoadTrip into the Heartland
South Dakota
by Peter Thody
For months we'd pored over maps, books, and the Internet ahead of a month-long, let's-do-it-now-the-kids-have-left-home journey across the USA. What we wanted to see was middle America, the American heartland... [More]
---
November 6, 2005

RoadTrip through the Redwoods
Avenue of the Giants
by Mark Sedenquist
The Avenue of the Giants is a thirty-two mile scenic byway that parallels US-101 about thirty-five miles south of Eureka, California. The road was originally built as a stagecoach and wagon road in the 1880s and roughly follows the South Fork of the Eel River from the small town of Pepperwood in the north to Phillipsville in the south... [More]
---
October 23, 2005

Eastern Idaho Road Trip
In Search of Fall Color
by Dennis Weaver
The early October skies were leaden and heavily settled on the mountains to the east as we headed up Highway 26 from Idaho Falls toward Jackson Hole, Wyoming. The rain had stopped. Cotton-like wisps clung to the mountains in contrast to the darker skies... [More]
---
| | | |
| --- | --- | --- |
| | | |
| | Stanford Racing's VW Touareg "Stanley" crosses the finish line first | |
| | | |
October 16, 2005

All in the "Secret Sauce"
Winning Strategies at the DARPA Grand Challenge
by Mark Helmlinger
What did it take to win? Practice, practice, practice! The five finishers of the DARPA Grand Challenge all put major development miles on their bots. Stories of desert escapades involving chase vehicles were common in the pits. The single factoid that indicated a winner might have been how many chase vehicles a team had ruined. In fact, the member of the Carnegie-Mellon team responsible for renting cars was black-listed... [More]
---
| | | |
| --- | --- | --- |
| | | |
| | Stanford team leaders Sebastian Thrun & Michael Montemerlo celebrate Stanley's victory | |
| | | |
October 9, 2005

No Drivers -- No Problem
Robots Meet DARPA's "Grand Challenge"
by Mark Sedenquist
Primm, Nevada, was the site of a truly historic road trip on Saturday, October 8th. At about 2:30 p.m., "Stanley," a driverless VW Diesel Touareg, crossed the finish line at the DARPA Grand Challenge after successfully negotiating a 131.5-mile desert course that looped around the Mojave Desert on both sides of Interstate 15 just south of Las Vegas. This was the second race sponsored by the Defense Advanced Research Projects Agency, offering a $2 million prize to the autonomous vehicle that could finish the course in ten hours or less... [More]
---
| | | |
| --- | --- | --- |
| | | |
| | Rain-washed adobe walls at historic Fort Bowie | |
| | | |
October 9, 2005

Arizona Field Report
Apache Pass and Historic Fort Bowie
by Robert Schaller
Apache Pass was a crossroads of human history in a place that General Crook once described as so barren "a wolf couldn't make a living on it." But there is a perennial freshwater spring there. The flow is just a trickle now, but it was once a reliable enough source that travelers made it a point to stop there. Good water sources were few in the southern deserts. The spring at Apache Pass was an important resource, and the Army built a post there in the 1860s to protect it: Fort Bowie... [More]
---
| | | |
| --- | --- | --- |
| | | |
| | Autonomous vehicles navigate a tunnel at the California Motor Speedway. | |
| | | |
October 2, 2005

The 'Bots Are Back in Town!
DARPA Grand Challenge 2005
by Mark Sedenquist
The Defense Advanced Research Projects Agency (DARPA) operates under the auspices of the United States Department of Defense. Last March, DARPA sponsored an event called the Grand Challenge, which was held to accelerate the development of autonomous vehicle technologies for use in battlefield situations. To succeed in the Grand Challenge, autonomous vehicles must be able to navigate a 175-mile desert topography course in under ten hours with no assistance of any kind from their human engineers... [More]
---
Greg Parker

July 22, 1947 - September 12, 2005
September 25, 2005

In Memory of Greg Parker
The Tow Truck Philosopher of the Eastern Mojave
by Mark Sedenquist
Greg Parker may been "officially" out of the towing business since mid 2002, but on Saturday night I saw tangible evidence that the tow truck driving community still counts him as one of their own. Greg passed away last week, and I was fortunate to spend the day in Barstow reveling in the colorful stories about his life and passions. As dusk fell over this historic Route 66 town, I witnessed a send-off... [More]
---
September 4, 2005

RoadTrip Southeastern Idaho:
Craters of the Moon National Monument
by Mark Sedenquist
One of the most extraordinary geologic sites in North America is located within a couple of hours of Twin Falls, Idaho. The Great Rift volcanic zone is a fifty-three mile-long tear in the earth's crust that extends roughly from the southern end of the Pioneer Mountains to... [More]
---
August 21, 2005

Atomic Road Trip!
Touring the World's First Nuclear Power Plant
by Mark Sedenquist
Experimental Breeder Reactor #1 (EBR-1) was the first nuclear-powered electrical power plant ever built, and it's open free of charge to visitors. Even though the building's bland cinderblock construction appears to be uninspiring from a distance, this place is well worth a visit... [Read the story!]
---
August 7, 2005

Los Angeles, Sierra Nevadas, Death Valley, Las Vegas, & Back!
1,200 Miles in Four Days
by Mark Helmlinger
This is a story of a recent road trip I had the honor of taking with my good friends Frank and Wolfgang. We traveled in a truly incredible road machine, the Phoenix II (formerly known as the Phoenix One) ...[More]
---
July 24, 2005
Going-to-the-Sun Road, Glacier National Park
by Mark Sedenquist
It was hard to imagine that such a perfect combination of temperature and weather could ever be matched during our recent visit to Glacier National Park in Montana. A happy coincidence of logistics enabled us to travel on the Going-to-the-Sun Road on our way to embark on a Quest RoadTrip that we had planned for Havre, Montana. My dad, Charles Sedenquist, left his home town 61 years ago...[More]
---
July 19, 2005
Moseying Through Capitol Reef National Park
by Robert Schaller
Sitting beside the roadway, on the Capitol Reef National Park Scenic Drive, I watch the play of sunlight on the multicolored but mostly-some-shade-of-orange-red-or-charcoal rocks, as it highlights the visible sedimentary layers. The layers themselves I can imagine looking like this forever, but...[More]
---
| | | |
| --- | --- | --- |
| | | |
| | Sybaris in the Rockies: Strawberry Park Hot Springs | |
| | | |
June 12, 2005
Strawberry Park Hot Springs
I have driven on 4 wheel-drive off-highway trails that have made my neck hair stand on end but that carried nary a warning sign at the trailhead. That's why the official signs on County Road 36 just outside Steamboat Springs, Colorado, riveted my attention. I regret that I didn't stop to take a photo. There were a couple of them just after the road left the pavement and began the uphill grade to our destination -- the famous Strawberry Park Hot Springs...[More]
---
May 15, 2005
RoadTrip Rendezvous!
Exactly what is a "RoadTrip Rendezvous?" Now that we're had our first one -- it happened the first week of May, 2005 -- we've come up with a definition. Participants take roadtrips that share one element: their itineraries converge at a set location in North America for a day or two. Participants meet, share a meal or two, and do something interesting together. The "something" might be anything from a music festival to a duck race -- North America is a big, fabulously diverse continent. In the case of the first RoadTrip Rendezvous, the "something" was a cattle branding on a ranch in southern Wyoming...[More]
---
| | | |
| --- | --- | --- |
| | | |
| | Highway 190 near Zabriskie Point on August 16th, 2004 | |
| | | |
May 1, 2005
Open Road to Death Valley!
On-the-road weather has always fascinated me. A weather radio can ALWAYS be found in any of my road trip vehicles, and I try to look at the NOAA weather satellite imagery a least once a day when I am at the office. On August 15, 2004, I noticed a huge thunderstorm cell building over the mountains on the eastern edge of Death Valley. Rain of any consequence is always of interest when it falls one of the driest mountain ranges in North America, but this one looked especially intense. It was. The storm that began to flood...[More]
---
May 1, 2005
Nouveau Pueblo: Arcosanti
by Robert Schaller
Over one thousand years ago, southwest Indians built cities into canyon walls. They did this for several reasons, among them efficient use of land and resources. Today, north of Phoenix, architect Paolo Soleri is building a city the same way they did, and for some of the same reasons. Arcosanti is located about two miles from Cordes Junction, Arizona. Since 1970, it's been Soleri's ongoing experiment in "arcology," his term for the synthesis of architecture and ecology...[More]
---
March 20, 2005
Wildflower Road Trips
If you haven't taken a road trip to view wildflowers yet this year, there's still time. Don't put it off too long, though -- this season is one of the best in decades in California's Death Valley and Antelope Valley, and things are looking good in lots of other parts of the country, too. Here are some photos to whet your appetite and some resources to get you rolling!...[More]
---
March 13, 2005
Winter Photo Junket on the Silverton & Durango Narrow Gauge Railroad
by Robert Schaller
On February 26, 2005, the Durango & Silverton Narrow Gauge Railroad operated its first winter photo excursion train. White snow, black locomotive, yellow passenger cars -- how could I possibly resist? Getting to Durango in time for an early Saturday boarding meant leaving Phoenix on Friday afternoon. My daughter Mandy and I took the fast route -- north on I-17 to Flagstaff, I-40 to Gallup, NM, and then US491, US64 and US550 through Shiprock and Farmington. We arrived in...[More]
---
November 14, 2004
Cactus & Kilts: The Tucson Celtic Festival & Highland Games
by Robert Schaller

I can hardly say I am a "Scot." McKinney is one branch of my family, for sure, late of the Isle of Skye, where they reportedly assisted in an uprising or two and suffered because of their clandestine support, not well concealed, for Bonnie Prince Charlie. Nevertheless, with a "bonnie" amalgam of blood in my veins, Norman, Cornish, German, Scot, and who knows what else, I am nothing but an American mutt, and that is fine with me. However, I find Scottish culture a fascinating and beautiful thing. On Saturday, November 6th, Highland Games were held in Tucson. I went, but I did not wear a kilt...[Read more]
---
August 25, 2004
White Mountains Road Trip
Imagine a road trip whose route crosses a couple of 7,000-foot mountain passes. It includes two-lane roadways with both long, straight stetches and sinewy, steep mountain curves. Think of a route that passes by Area 51, the primary Predator airbase, several historic gold and silver mining areas, and winds by a grove of the oldest trees on earth. Such a drive is an easy day trip from Las Vegas, Nevada, and covers about 262 miles one way...[More]
---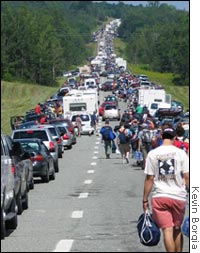 August 22, 2004
So Long and Thanks for All the Phish...
A Road Trip Era Comes to A Damp End in Vermont
by Kevin C. Borgia

Twenty-three year-old Ben Pomeroy and two friends left their home in Greenville, South Carolina, Friday morning on a road trip to see old friends. Twenty-two hours later, they joined the line on I-91 with thousands of others waiting to enter tiny Coventry, Vermont, where friends Trey, Page, Mike and Jon would be arriving soon. However, Ben and most of the masses had never even met the four men. They only knew them as the band Phish, who played their final shows last weekend. But tragedy seemed to befall Pomeroy when he heard the band's management was turning vehicles away due to torrential rains that rendered huge areas of the 600-acre concert site unusable. But after their 1000-mile journey, Pomeroy and friends wouldn't take "no" for an answer. They locked their car, grabbed all they could carry, and began the eight-hour hike...[Read more]
---
June 27, 2004
Take Safety Along
Nearly all experienced roadtrippers are already excellent drivers. A common love of seeing "what's around the next bend" tends to hone our collective abilities when we sit behind the wheel and pursue our hobby of taking road trips. But I have yet to meet a single individual—professional drivers included—who would not benefit from taking refresher or advanced driving skill classes. While researching this article, I took a practice quiz on the DrivingDirectory.com Web site and was astonished that I did relatively poorly on the highway sign identification test. Since I drive hundreds of miles each month, and I am particularly interested in highway signage, it occurred to me that other slightly-more-casual roadtrippers might benefit from a page of resources that provides tips and suggestions for enhancing their own driving skills. We've added such a page to RoadTrip America this week, and...[Read more]
---
May 30, 2004
Best-Kept RoadTrip Secrets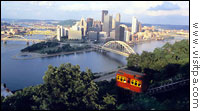 We all know the Web is an incredible source for obtaining information about little known roadtrip destinations and attractions. Unfortunately, the task of finding useful information can be daunting, even for experienced search engine users and professional roadtrippers. Here at RoadTrip America, we consider it one of our primary missions to scour the Web each week looking for new and useful road trip resources. In addition, we receive lots of "intel" by email. We post the best sites we find on our Links Pages with short descriptions. Some sites, however, deserve more than a paragraph. Here are three outstanding recent finds...[Read more]
---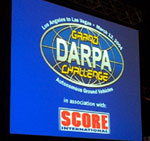 March 14, 2004
Robots on the Road: The DARPA Grand Challenge
I never need much of an excuse to take a road trip, but yesterday I had a GRAND one! At 2:00 am we left Las Vegas and headed south on Interstate 15. It was a beautiful night to be on the road, and our destination was the Slash X café in Barstow, California. Slash X was ground zero for the DARPA Grand Challenge Autonomous Ground Vehicle Race from Barstow to Primm, Nevada...[Read more]
---
February 23, 2004
Reservations on Road Trips -- Do You Need Them?
A frequent topic of discussion on the Great American RoadTrip Forum centers around whether or not to make lodging or camping reservations when on a road trip. For me, the only difference between a "drive" between two points and a "road trip" is the shift in perception by the participants. In my world, a "road trip" is synonymous with freedom and adventure and the constraints imposed by having reservations en route is antithetical to that process...[Read more]
More "Getting Out There Articles>