Getting Out There:
RoadTrip News & Views
Robots on the Road: The DARPA Grand Challenge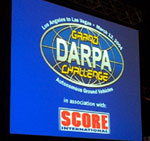 The DARPA Grand Challenge

March 14, 2004—
I never need much of an excuse to take a road trip, but yesterday I had a GRAND one! At 2:00 am we left Las Vegas and headed south on Interstate 15. It was a beautiful night to be on the road, and our destination was the Slash X café in Barstow, California. Slash X was ground zero for the DARPA Grand Challenge Autonomous Ground Vehicle Race from Barstow to Primm, Nevada.
DARPA, the Defense Advanced Research Projects Agency, is the U.S. Department of Defense's primary R&D organization, and it's tasked with discovering and nurturing new technologies that can be used by the U.S. military. This race was one of many efforts to develop the systems and technology to meet the Congressional mandate that by 2015 30% of all U.S. military vehicles be capable of autonomous navigation.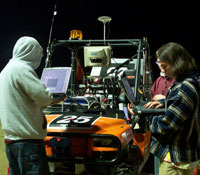 Virginia Tech team members work on "Cliff"
Hundreds of robotics engineers and scientists were motivated by the challenge, not to mention a prize of $1,000,000 for the first vehicle to safely navigate a long and challenging course through the desert in less than 10 hours. Contenders began deliberating and putting ideas together in February, 2003. The submission of technical papers in October winnowed the field to 86 teams. During the first week of March, 2004, eighteen teams participated in qualifying trials in Fontana, California.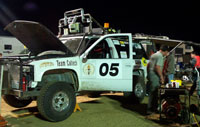 "Bob" gets last-minute adjustments from Team Caltech
By sunrise on the morning of March 13, thirteen teams representing five universities, a high school, and seven entrepreneurs prepared to meet the challenge of negotiating 142 miles of some of the harshest desert terrain in the United States. About three hours before the race began, the teams received the route of the race and the latitude and longitude of about 2,000 GPS waypoints on a CD. The teams also received speed limit data. Each vehicle was supposed to analyze sensor information about the road conditions in front of it (which could be rocky, sandy, muddy, steep, twisty, etc.), combine that with GPS data and speed limit restrictions, and then find a way to navigate the course with no human involvement of any kind. (To put this into perspective, this is far more complex than operating the Mars Rover. The Mars Rover, even though it's very far away, still receives human guidance.) Continue>>