Getting Out There:
RoadTrip News & Views
Take Safety Along for the Ride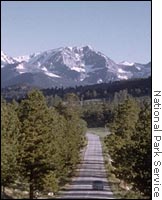 Rocky Mountains National Park, Colorado
June 27, 2004—
Nearly all experienced roadtrippers are already excellent drivers. A common love of seeing "what's around the next bend" tends to hone our collective abilities when we sit behind the wheel and pursue our hobby of taking road trips. But I have yet to meet a single individual—professional drivers included—who would not benefit from taking refresher or advanced driving skill classes. While researching this article, I took a practice quiz on the DrivingDirectory.com Web site and was astonished that I did relatively poorly on the highway sign identification test. Since I drive hundreds of miles each month, and I am particularly interested in highway signage, it occurred to me that other slightly-more-casual roadtrippers might benefit from a page of resources that provides tips and suggestions for enhancing their own driving skills. We've added such a page to RoadTrip America this week, and we hope you find it useful. (As always, suggestions are welcome!)
In case you haven't already discovered "Drive Safe with Uncle Bob," allow me to introduce Robert "Uncle Bob" Schaller, RoadTrip America's defensive driving expert. Each week, he adds another rule to his growing compendium of safe driving tactics. This week, Uncle Bob has provided tips and suggestions for ensuring that your vehicle's tires are kept in their best operating condition. He provides a compelling economic argument for ensuring that tires are kept inflated at their correct pressure and one that every owner of a car or truck should consider carefully. As a result of reading Uncle Bob's columns each week, I know my own driving skills have improved, and I highly recommend a spin through his articles.
It would be safe to say that virtually every road trip enthusiast has driven while being a little more tired or drowsy than is advisable. A number of Federal and private programs have been developed to assist sleepy drivers. On the Safe Driving Tips page, we've included information about Awake at the Wheel and the "Drive Revived" program sponsored by Baymont Inns & Suites hotel chain. But the best advice when you are a little too drowsy is get off the road and take a quick cat-nap. Even 45 minutes can greatly improve your alertness factor. Caffeine, a blast of cold air, or loud music are poor substitutes for eyes-closed rest. In those situations where even a short nap is not possible, I find that conversations with other drivers on the CB radio or having a spirited discussion with a roadtrip partner are the best ways to stay alert and focused on the task of driving down the road.
We have also provided links to organizations and companies that offer free advice and fee-based educational programs to improve your on-the-road driving performance.
Have a safe, alert, and fun-filled road trip this week!