Getting Out There:
RoadTrip News & Views
Using the Web to Find Best-Kept RoadTrip Secrets
May 30, 2004—
We all know the Web is an incredible source for obtaining information about little known roadtrip destinations and attractions. Unfortunately, the task of finding useful information can be daunting, even for experienced search engine users and professional roadtrippers. Here at RoadTrip America, we consider it one of our primary missions to scour the Web each week looking for new and useful road trip resources. In addition, we receive lots of "intel" by email. We post the best sites we find on our Links Pages with short descriptions. Some sites, however, deserve more than a paragraph. Here are three outstanding recent finds: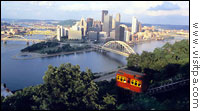 A view of Pittsburgh with an incline railroad car in the foreground
ROAD TRIPS IN PENNSYLVANIA

This site is the official tourism site for the commonwealth of Pennsylvania and is one of the best on the Web for planning road trips. Sixteen itineraries are outlined. Most are organized into four-day trips, although some are structured into seven-day journeys. All the trips are classified into three special interest categories:
Arts (historic theatres, small town charm, etc.)
Outdoor (Biking trails, amusement parks, river tours, etc.)
Historical (Lincoln Highway, Birth of a Nation, etc.)
The photographs and accompanying maps are excellent, providing a superb base from which to launch your own exploration of the "Independence" state. Each of the itinerary pages also includes suggestions for lodging, restaurants, and other attractions in the immediate area. Local current weather is shown on each page, and contact information is provided. The site also has a super-fast search function for finding fun things to do and offers discounted travel packages and coupons. The design of the Web site enables fast downloads, and the photographs are perfect for both virtual and real-life roadtrippers.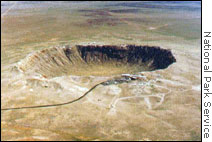 What an explosive force greater than 20 million tons of TNT can do to a landscape: the Arizona Meteor Crater
HIDDEN LANDMARKS

In association with the Hampton Inns hotel chain, pop culture guru Chris Epting, author of James Dean Died Here and Marilyn Monroe Dyed Here, has created a interactive database that is very cool and worth checking out. The Hidden Landmarks site has descriptions of over 600 locations in the United States and Canada. There are only four places listed in Canada, but the other 586 are fairly evenly distributed throughout the 49 continental U.S. states. The attractions are further subdivided into eleven sub-categories ranging from American history, music, sports, Route 66, and food. Roadtrippers can select a couple of categories in a particular region of the country and obtaining an intriguing list of places to visit while on a road trip. Plus—as you'd expect—you can book lodging at the Hampton Inns found near these unique road trip attractions. I often stop by this site when I am considering or planning a road trip.
AMERICA'S BYWAYS AND BACKROADS

The National Scenic Byways Program is administrated by the Federal Highway Administration and their Web site keeps getting better and better. Although it could be argued that the process of how certain highways come to be designated as "scenic" has more to do with socio/economic considerations than stunning natural views, there is no doubt that the folks who manage this site do an excellent job. The best way to use this site is to visit the America's Byways site and then start viewing the extensive lists of scenic routes. Once you reach the byway pages you will find photos, maps, event calendars, suggestions for nearby attractions, extensive contact information, length of the planned route, and the expected time to travel the distance.
The only major criticism I have about this site is the "route planner option". It is supposed to be an interactive itinerary device, but I tried to use it on 10 different byway pages and it never seemed to work. Nonetheless, while Byways.org is not as user-intuitive as the Pennsylvania road trip planning site, it is still a valuable resource for roadtrippers searching for lesser-known routes and attractions in North America.