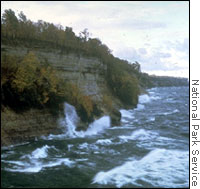 Pictured Rocks National Lakeshore, Michigan

Last month
, we identified two main categories of road trips --
the Youthful Jaunt and Youthful Quest -- but there is a near-infinite supply of secondary reasons to hit the road. One very popular motivation for road tripping is actually a hybrid of the Jaunt and the Quest. We call it the
Road Trip Challenge
. Whether the goal is to "bag" certain destinations or make a trip within a time frame (which can be nearly indistinguishable from "a race"), the
Road Trip Challenge
has a specific goal or set of goals.
NEW THIS MONTH
RVing With Alice & Jaimie
Authors Jaimie Hall and Alice Zyetz have been on the road with their husbands fulltime for over ten years. Their latest column is about RVing on Route 66.
To prove that goals have been achieved, most challenge-oriented road trippers acquire "proof." Some use cameras to record themselves, a sign, or a prop (we've heard about everything from teddy bears to college pennants) at specific locations along the way. Others collect tokens -- postcards, brochures, autographs, key chains, and sometimes more natural souvenirs like leaves and soil samples. If they've set themselves a time limit, they might find reputable third parties to "mind the clock" and bolster their credibility. Almost all challenge road trippers are eager to broadcast their goals and share details of their attempts to reach them. The Internet offers an ideal medium for these kinds of road trippers to publish their adventures.
Here are a few Challenge Road Trips we've heard about lately. If you warm to the notion of a goal when you hit the road, perhaps they will spark ideas for your own planning.
* Visit every county seat in the lower 48 states. (Not for the faint of heart -- there are thousands.) Much easier is the goal of visiting the capital of every U.S. state and Canadian province.
* Collect a sample of something from every state that you can only get by going there. Here's where the leaves and soil samples come in, but refrigerator magnets and souvenir teaspoons are also popular choices. (No fair shopping on Ebay.)
*Drive around each of the Great Lakes. "Chuck," a frequent contributor to the Great American RoadTrip Forum has proposed this challenge, which is a lot longer (they don't call them "Great" for nothing) than you might guess.
* Visit every national park, national seashore, and national historical park in North America. A major challenge, because there are hundreds, and some are accessible only by boat.
* Photograph the tallest peak in each state and/or province in North America, and drive to all summits accessible by motor vehicle. Alternatively, some people choose to visit the lowest points in each state or province - much easier, but not quite as photogenic.
* Drive through every state in the United States and Mexico. Visiting every U.S. state (or sometimes just the "lower 48") is a popular road trip goal. The speediest such trek we've heard about was a fundraiser that passed through all 50 U.S. states in just over eight days. More speed runs are online here.
* Drive through every province in Canada. Ferries are okay when necessary.
* Drive around the world. Sound impossible? Such an expedition is currently underway as a fundraiser for Parkinson's disease research. The team expects to cover 30,000 miles in nine months. (This trip allows the use of both ferries and container ships -- the team and their Land Rovers are now in Australia.)
* Follow the seasonal migration of wildlife: birds, butterflies, whales, migratory mammals. Travel during fall "leaf-peeping" season, spring wildflower season, etc. Serious bird watchers can opt for a "Big Year," a twelve-month push to see as many different varieties of birds as possible.
* Take a swim in every body of water that touches the edges of the North American continent.
* Drive all the way from Tierra del Fuego to Prudhoe Bay as quickly as possible. Tim Cahill and Garry Sowerby still hold the Guiness Book record for doing this in a mind-boggling 23½ days back in the early nineties. (Read the highly entertaining account in Cahill's Road Fever.)
* Drive at least ten miles on every Interstate Highway in the USA. Might be a good goal for a professional truck driver.
* Visit every named hot spring in the West. How do we sign up for this one?
* Attend every state fair in America in one year. Logistically tough, but good for lovers of funnel cake.
As you can see, Challenge Road Trips are limited only by your interests and imagination. For more inspiration, take a spin around our RoadTrip Planning page and our Book Review page. When you've found your perfect challenge, visit the RoadTrip Forum and let us know your plans!
Yours from around the next bend,
Mark Sedenquist & Megan Edwards
<March/April | May | June>