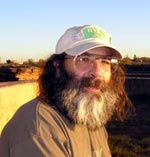 Explore the southwest (and more!) with college professor Gerald Thurman, who roams the backroads with a digital camera and an eye for the cool.

Update: November 2022: After more than twenty-six years of taking virtual road trips with Gerald Thurman, he closed down his travel web site (AZFOO.NET) and all of his articles, tips and finds are no longer on the Web.  This page is retained as a tribute to what once was an epic roadtripper's collection.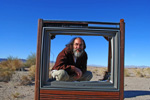 Live from Rice, California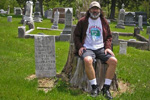 Cemetery in Ellisville, Illinois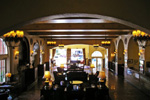 The Hassayampa Inn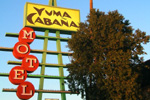 Yuma Cabana Motel
Mojave sunrise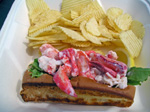 The perfect lobster roll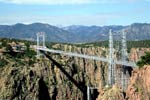 Royal Gorge, Colorado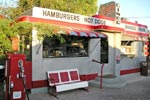 Dot's Diner in Bisbee, AZ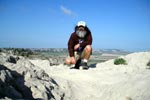 On the peak of Scotts Bluff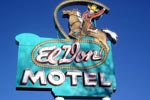 Roosevelt Dam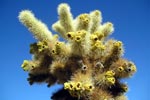 Cholla cactus in bloom
The Coronado Trail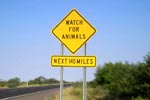 140 beastly miles ahead!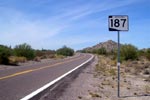 the road to Sacaton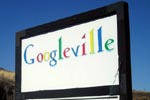 Googleville!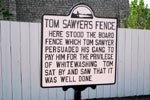 Tom Sawyer's fence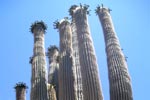 Blooming saguaro in Tonto National Forest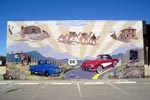 Route 66 Mural in Kingman, Arizona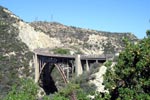 Pinto Canyon Bridge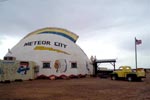 Meteor City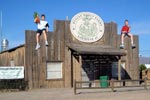 Duncan Family Farm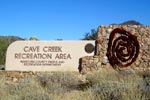 Cave Creek Recreation Area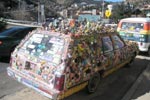 Photogenic car in Bisbee, Arizona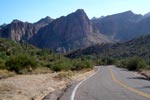 Saguaro Lake Byway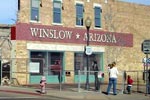 Standin' on a corner in...
Charlie Brown at home in Santa Rosa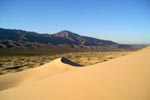 Kelso Dunes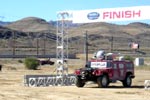 DARPA Grand Challenge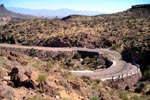 Sitgreaves Pass, Route 66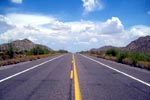 Highway 387, Arizona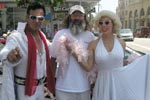 Elvis, Thurman, & Marilyn on Hollywood Boulevard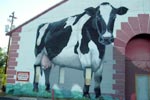 Mural in Flagstaff, Arizona, on Route 66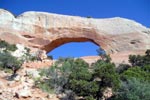 Wilson Arch near Moab, Utah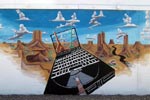 Up-to-date mural in Casa Grande, Arizona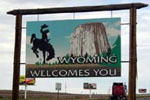 RoadTrip: Wyoming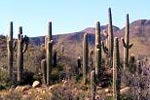 Saguaros near Payson, Arizona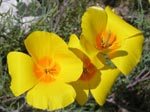 Desert poppies, White Tank Mountain Park, Arizona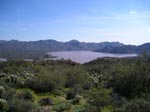 Bartlett Lake, Arizona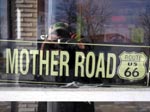 Route 66 sign (and Gerald, if you look closely!) in Illinois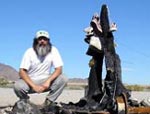 Charred Shoe Tree near Rice, California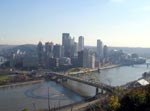 Pittsburgh, Pennsylvania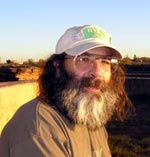 Journey to Winslow, Arizona
Zero Milestone, Washington, D.C.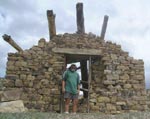 Great Basin Road Trip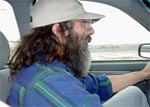 On the road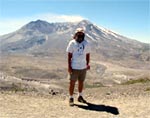 Mt. St. Helens, Washington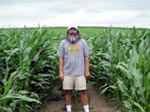 "Field of Dreams," Iowa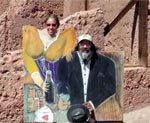 Calico Ghost Town, California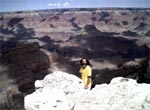 Grand Canyon, Arizona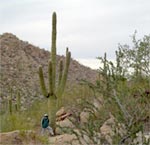 Saguaro National Park, Arizona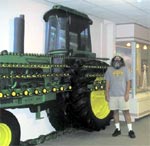 Farm Toy Museum, Iowa
New Year's Road Trip to Tehachapi and Route 66: (2/8/09)
A three-day, 1102-mile round trip beginning in Tempe, Arizona. Thurman checked on the state of various shoe trees in Rice, California, then moved onward to the Fortynine Palms Oasis in Joshua Tree National Park and a memorable night at the El Rancho Motel in Barstow. He photographed several beautiful roadside murals and captured some of the clearest images of the Tehachapi Loop we've ever seen. Thurman also got some great photos of the Twenty-Mule Team Museum in Boron and gorgeous
Fly and Drive to the Great River Road: (05/15/08)
A five-day, 744-mile fly & drive road trip from Phoenix, Arizona to Warsaw, Illinois via Chicago and Joliet. Thurman stayed on the bank of the Mississippi River, watched barges and explored several historic towns including Basco, Carthage, Ellisville, London Mills and Maquon. He captured some wonderful scenery and colorful images of old town Americana, found a mural and visited some old cemeteries. In the photo on the left, he's sitting on a seat carved from a tree stump, flanked by old grave stones.

Spring Break Road Trip: (03/12/08)
A two-day, 262-mile roundtrip road adventure from Tempe, Arizona to Prescott, Arizona and back. The mission of this trip was to spend the night at the historic Hassayampa Inn, which opened in 1927. While in Prescott, Thurman visited the oldest log building (1863) and first bank of the Arizona Territory (1877). He looked for fine dining along Whiskey Row and discovered the resting place of "Mike the Community Dog". He also found some beautiful old buildings and a very nice mural.

A Mid-December Desert Retreat: (12/16/07) A three-day, 969-mile roundtrip road trip from Tempe, Arizona to Palm Springs, California. Gerald and his son captured some gorgeous photos in this back roads exploration near the desert towns of Quartzsite, Yuma, Bond's Corner, and Chiriaco Summit. Along the way they spent time in the Carrizo Badlands of Anza-Borrego Desert State Park and captured some awesome views from Font's Point near the Salton Sea. They also found time to take photos of historic buildings, old neon signs, a bunch of trains, and a cool mural or two. One of the highlights was the ride up the Palm Springs Aerial Tramway -- and a snowman at the top.

A Weekend Road Trip in the Mojave Desert: (11/04/07) A three-day, 854-mile roundtrip journey from Tempe, Arizona to Victorville, California to attend the DARPA Urban Challenge event for autonomous robotic vehicles. On day one, Thurman followed Interstate 10 to Quartzsite and Palm Springs to San Bernardino and took some outstanding photos of the historic California Theatre. Here is his photo journal from the first day at the DARPA event. Here are some excellent photos and commentary from the competition on November 3rd. Day three finds Thurman back on the road with stops at Twentynine Palms for some more great murals and expanded coverage of the shoe tree fence in Rice, California. He also stopped by Bouse, Arizona, "home of 875 friendly people and 5 grouches."

In Search of the Perfect Lobster Roll (8/14/07) A four-day, 760-mile fly & drive roadtrip to New Hampshire and Maine with Boston, Massachusetts as the hub. Dodging rainstorms, Kathleen and Gerald visited Salem, Gloucester, and then made a beeline to Bangor, Maine where they explored some of Acadia National Park and the coastal highways linking Maine with Massachusetts. While in Boston, they visited the Commons and hiked the Freedom Trail. Want to know where to find the perfect lobster tail sandwich? Read this report!
Fly & Drive: Denver (08/05/07) A five-day, 1169-mile road trip with Denver, Colorado as the hub. There are so many outstanding scenic views in this field report, it is amazing. Thurman visited two national parks, three national monuments and crossed the Continental Divide four times. He found some awesome murals in Delta and Fruita and captured beautiful shots of the Royal Gorge and the very tall waterfalls at Seven Falls. He also drove to the top of Pikes Peak and managed to get some great shots of Elk. There is an especially excellent photo of a Denver and Rio Grande Railroad steam engine in the gorge. If you are considering a fly-and-drive from Denver, spend some time reading this report!

Exploring Southeastern Arizona (07/04/07) A three-day, 524-mile road trip to Bisbee. While in Bisbee, Thurman stayed at the famous Shady Dell RV park. What sets this place apart from the thousands of RV parks across the country, are the vintage aluminum trailers that guests may stay in. Some of these unusual trailers include a 1950 Spartanette, a 1951 Royal Mansion and a 1949 Airstream. Thurman and Kathleen stayed in a 1957 El Rey. Also on site is the still-functioning Dot's Diner, and next door is the Evergreen Cemetery, which, Thurman says, is "… the most interesting cemetery I've ever visited." Thurman also visited the Phelps Dodge open pit mine, and captured some beautiful photos of Bisbee and Tombstone, the old Western town that was "too tough to die".
Grassland and Prairie RoadTrip (6/5/07) A two-day ramble through the grasslands and prairies of northeast Colorado and southwest Nebraska. This is a vintage Thurman excursion: he documents examples of prairie town architecture in little-known places like Last Chance & Brush, Colorado and in Kimball & Arthur, Nebraska. He also travels the back roads through the Pawnee National Grassland and explores Scotts Bluff National Monument. Be sure to look at his photos of the historic and beautiful arches of the highway bridge near Fort Morgan and the arresting images of "Carhenge" near Alliance, Nebraska. This report also includes images of both Courthouse and Jail Rock, famous landmarks on the Oregon Trail. This part of this journey ends in McCook, Nebraska after a stop at Massacre Canyon.

Albuquerque, New Mexico RoadTrip! (3/13/07) A three-day, 339-mile roadtrip around Albuquerque, New Mexico with special attention paid to Route 66, some incredible murals in both "old town" and the Nob Hill Section of the city and a visit to the University of New Mexico. Thurman also drove to the Petroglyph National Monument, the Volcanoes day use area, and along the Sandia Crest Parkway. His mission this trip was to have a piece of blueberry pie on PI day (March 14th) which he found at the Route 66 Diner. This adventure features two video clips!

Historic Apache Trail (2/11/07) Thurman reprises one of the first road trips he took for RTA back in December, 2003. This time, he chose to drive it in reverse (west-to-east), and the desert views in this seven-hour, 183-mile road trip are outstanding. He captured some really nice views of the Roosevelt Dam and bridge, towering saguaro cactus and gorgeous light on the surrounding mountains. If you have ever thought about driving this route, which is easily accessible on a day trip from the Phoenix area, check out this field report!

Three days in a convertible! (12/10/06) A three-day, 811-mile road trip to southern California. Thurman travels to Rice to check on the Rice Shoe Tree and her progeny. Other stops include a quick check on the "Oasis of Murals" in Twentynine Palms, a drive through Joshua Tree National Park, and a cruise on historic Route 66 between Victorville and Barstow. There are some wonderful scenes from Joshua Tree and the surrounding desert in this roadtrip field report.
RoadTrip to a Yurt! (10/17/06) A four-day, 564-mile roadtrip to Lyman Lake State Park via US-191, known as the Coronado Trail, which has some of the curviest stretches of pavement in the continental forty-eight states. Along the way Thurman visits the towns of Thatcher and Clifton and photographs a bunch of petroglyphs and some stunning cloud formations, including one that looks like the mathematical symbol for Pi.

RoadTrip to Bagdad (9/22/06) An eleven-hour, 363-mile road trip to Bagdad, Arizona, including visits to Wickenburg, Prescott, Skull Valley and Yarnell. This route included scenic drives on US Highway 93 and Arizona Highways 97, 96 and 89. Gerald found a very strange parking sign in Skull Valley and some very colorful murals in Prescott.

The Road To Sacaton (8/7/06) A three-hour, 102-mile road trip to some small Arizona towns along the Gila River south of Phoenix. Along the way, Gerald finds a new mural that replaces one lost when a building was torn down near Freedom Park in Sacaton and shares some photos of the Pima Mission which was founded in 1870. Gerald was last in this area in March, 2005, and his photos of the desert in spring bloom are noteworthy.

The Oregon Trail & Beyond (7/29/06) A 4-day, 353-mile roadtrip that explores sections of the Oregon Trail, downtown Portland and the surrounding countryside. Along the way, Gerald captured some gorgeous photos of Oregon City, Mt. Hood, the Portland Rose Garden and waterfalls in the Columbia River Gorge. In Oregon City, Gerald shot scores of photos of murals. Look for the hydrant-swallowing tree that he found near Thurman Street in Portland! He also stopped by the Timberline Lodge near Government Camp which was used as the exterior of the hotel in "The Shining." He found a bonanza of new murals for our collection in The Dalles and a sign announcing the location of - get ready - Googleville!

The Great River Road (6/29/06) A five day, 1,475-mile road trip starting and ending in St. Louis, Missouri including travel along historic US Highway 61 with visits to Hannibal, Missouri (home of Mark Twain), Chester, Illinois (Popeye's home town), Metropolis, Illinois (Superman's hometown), the Eiffel tower in Paris, Tennessee, Jackson, Tennessee (Casey Jones' hometown), and the St. Francis Scenic Byway in Arkansas. Along the way, Thurman found scores of new murals, walked in the footsteps of Lewis and Clark at the confluence of the Mississippi and Missouri Rivers, captured an intimate moment with two giant bison, explored Beale Street in Memphis, Tennessee, and enjoyed some epicurean delights at the famous Lambert's Café, (home of "thrown rolls") in Sikeston, Missouri.
Searching for the "Grand Saguaro" (6/15/06)
A six-hour, 120-mile round trip from Tempe to the Horseshoe Lake reservoir in the Tonto National Forest in search of a giant saguaro cactus known as the "Grand One." The roadtrip included visits to Horseshoe Dam and Lake, the Sears-Kay Ruin, and an exploration of the fire damage caused by last year's Cave Creek Complex fire.

More Route 66 Adventures! (6/2/06)
A two-day, 631 mile round trip roadtrip from Tempe to Flagstaff and Kingman, Arizona, along historic Route 66. Gerald undertook this particular trip, in part, to identify the names of the artists who have created some of the amazing murals along Route 66. (The Route 66 scene to the left was painted by Sandy Ruskino.) Along the way, Gerald shares shots of desert vistas, blooming saguaros and historic roadside attractions including some real epicurean discoveries at the Copper Cart Restaurant in Seligman (famous pancakes) and Mr. D'z (excellent hamburgers) in Kingman.
What happened to Christmas? (5/19/06)
In Gerald Thurman's ongoing quest to document the vanishing architectural vestiges of Arizona's mining history, he undertook a 7½-hour, 210-mile round trip journey through the Superstition Mountains from Tempe to Globe, Winkelman and Superior. Along the way he tried to find the small town of Christmas. While he missed Christmas, this trip report includes photographs of the "the most beautiful steel bridge of 1949," a huge array of blooming saguaros in El Capitan Canyon, and a beautiful mosaic mural he found in Hayden. There are also some photos of the historic mining towns of Miami and Kearny.
Route 66 & Beyond (3/18/06)
A two-day, 594-mile roundtrip road trip from Tempe, Arizona, to points of interest in northern Arizona and New Mexico. Thurman captured some gorgeous scenery and several new murals. His photo slideshow has scenery from Walnut Canyon National Monument, Petrified Forest National Park, and the towns of Payson, Flagstaff, Winslow, Holbrook, Show Low, Miami and Superior.
Goodyear, Arizona (2/21/06)
A 189-mile road trip from Tempe to Buckeye, Gila Bend, Maricopa, and back to Tempe. This seven-hour trip included stops at the Robbins Butte Wildlife refuge, and the Sonoran Desert National Monument. Thurman also captured some photos of very odd-looking saguaro cacti along Arizona Highway 238.
Bad Ass RoadTrip (1/6/06)
A seven-hour, 164-mile roadtrip to the Sunset Point rest area on Interstate 17 north of Phoenix. The trip included visits to Carefree, Cave Creek, Cave Creek Recreational Area (and the old Clay Mine), the sundial at the Sunset Point rest area, and the High Desert Trail near Black Canyon City. Along the way, Thurman found an eclectic collection of sculptures in the Carefree City Park, sampled delicacies at the Bad Ass BBQ in Black Canyon City, and enjoyed a tasty piece of Jack Daniels Pecan Pie at Rock Springs.

SE Arizona and SW New Mexico (12/23/05)
A two-day, 705-mile road trip from Tempe, Arizona, to the historic mining towns of Fairbank, Tombstone, and Bisbee. Thurman then traveled west into New Mexico with stops at the Geronimo surrender monument, the site of the Clanton Gang hideout in Animas. He crisscrossed the continental divide three times before reaching Lordsburg. Back in Arizona, Thurman photographed some interesting older buildings in several semi-ghost towns including Bowie and San Simon. His slide show includes some mysterious shots of "The Thing" and some oddly shaped cactus at Saguaro National Park. As on many of his other trips, Thurman found some great murals and wonderful scenic vistas.
Saguaro Lake Byway (12/14/05)
A three hour, 73-mile road trip from Scottsdale on the Beeline Highway (Arizona Highway 87) to Saguaro Lake with a return to Tempe on the Bush Highway. The trip includes a walk through part of the Butcher Jones Recreation Site around the lake and some great views of picturesque Saguaro cactus plants and plenty of ducks. The final section of the road trip winds down into the canyons in the Tonto National Forest & Lower Salt River area.
Return to Winslow: (11/12/05) A three-day/two-night 175-mile road trip visit to Winslow, Arizona, where Gerald documents a number of Route 66 buildings and murals found around downtown. He also has some great photos of historic trains and the gardens at the famous La Posada hotel. The return leg of the trip
San Francisco Bay Area: (10/31/05) A four-day/three-night fly-and-drive 227-mile roadtrip from San Jose to San Francisco, Santa Rosa, and Sebastopol. Highlights of this Halloween trip included sunrise at the Golden Gate Bridge, a drive along the Pacific Coast Highway, murals and statues of the Charlie Brown characters in Santa Rosa, a visit to Stanford University, and a stop at the humble garage that is considered to be the birthplace of Silicon Valley.

Kelso Dunes and the Rice Shoe Tree (10/9/05) Thurman travels from Baker, California to Tempe, Arizona and visits the Mojave National Preserve, the Kelso Dunes, the famous Roy's Café on Route 66, and the Rice Shoe Tree near California State Highway 62. This was actually the fourth leg in a four-day/three night roadtrip covering 918 miles. To view it in order, click here.
DARPA Grand Challenge (10/8/05) Gerald Thurman's coverage of the autonomous vehicle race that covered a 132-mile off-highway desert course between Primm and Las Vegas, Nevada.
Route 66 over Sitgreaves Pass (10/7/05) Road trip between Kingman, Arizona and Primm, Nevada via Route 66 through the town of Oatman. Gerald found a bunch more murals along the way and documented a number of historic buildings.
Northwest Indiana RoadTrip (8/11/05) A four-day/three-night trip to Joliet, Illinois, and a 227-mile round trip road trip to northwest Indiana. Highlights of this trip include brief visits to the Illinois and Michigan Canal Museum, iron-work sculptures in Munster, Indiana, the Myers Castle in Dyer, some really cool bulldog (especially the "Marine Bulldog") public art displays in downtown Crown Point, the Indiana Dunes National Lakeshore, and some truly awesome murals on Route 66 in Joliet, Illinois.
Two-Hour RoadTrip (7/26/05) A one-day, 35-mile drive between Chandler and Coolidge, Arizona, on Arizona State Route 87. This route follows the Gila River and crosses two of the three former irrigation canals that were built in the early 1900s. Thurman captured photographs of some of the former locks -- pretty surprising to find them in the dry desert landscape! He also found a very photogenic example of Spanish architecture -- a church and graveyard near Chandler. His return trip to Tempe was via a 15-mile scenic section of AZ-Hwy 387.
RoadTrip: Los Angeles (7/05/05) A four-day/three-night road trip from Tempe, Arizona to Los Angeles, California covering 825 miles. Highlights of this trip included visits to Santa Monica, Griffith Park, the El Capitan Theatre in Hollywood, the famous Watts Towers, skyscrapers in downtown LA, Union Station, and, of course, more murals including some unusual ones in downtown L.A.
Mormon Lake Road Trip: (6/18/05) A two-day/one-night roadtrip between Phoenix and Mormon Lake Village via Flagstaff covering 380 miles. Thurman and his daughter Bree stopped at the Flagstaff train depot, Northern Arizona University, Mormon Lake, and the Tonto Natural Bridge State Park. In addition to an impressive cow mural, Thurman found another amazing mural depicting a cowgirl's dream during his brief visit to Flagstaff.
Four Corners RoadTrip: (6/5/05) Thurman's five day/four night roadtrip through northeast Arizona, northwest New Mexico, southwest Colorado, and southeast Utah covered 1,822 miles. This awesome road trip yielded breathtaking photos at El Morro National Monument, the Bandera Volcano and Ice Cave, Mesa Verde National Park, Newspaper Rock, Canyonlands National Park, Dead Horse State Park, Arches National Park, Goblin Valley, Valley of the Gods, Canyon de Chelly, and extensive coverage of the murals in Moab, Utah. Be sure and look for the "Poison Spider" mural.
Casa Grande RoadTrip: (5/16/05) A six hour, 200-mile road trip between Tempe and Casa Grande, Arizona with a stop for pancakes at the famous Space Age Lodge in Gila Bend. Along the way, Thurman found some blooming Saguaros, a friendly Gila monster, a rock church, and some really interesting murals in downtown Casa Grande.
Wyoming RoadTrip: (05/8/05) A 3-day/2-night fly/drive roadtrip from Phoenix, Arizona to Denver, Colorado, including an all-day cattle branding on a ranch near Ft. Laramie, Wyoming. Gerald found some great murals & "boot" art, and he captured some truly great western scenery. Along the way, he drove 608 miles and explored parts of Colorado, Wyoming, and Nebraska.
April Fools Day RoadTrip (4/4/05) Gerald explored Arizona's Rim Country during a one-day, 337-mile roadtrip from Tempe to Show Low to Payson and back to Tempe. Along the way he got some gorgeous shots of the Salt River canyon and a Saguaro forest southwest of Payson.
Estrella Mountain Park (3/20/05) Wildflower displays within a couple of hours of Phoenix
White Tank Mountain Park (3/20/05) Two-hour road trip from Phoenix, with petroglyphs and more wildflowers.
New Mexico Spring Break RoadTrip (3/20/05) A two-day, 858-mile trip from Tempe to Silver City, New Mexico, and back with awesome views of Salt River Canyon, desert wildflowers, colorful murals, and snow-covered passes.
Two-Hour Road Trips from Phoenix (3/6/05) In the spirit of "The Art of the Two-Hour Road Trip," Gerald visited Bartlett Lake and Arizona City. Check out how green the Arizonan desert is this year in these two field reports.
Getting Kicks on Route 66 (2/6/05) Gerald took this 3-Day/2-night roadtrip on the 30th of January through rural Illinois, including 80 miles along historic Route 66. Highlights to check out on his latest ramble: Frozen waves on Lake Michigan in Chicago, great examples of vintage murals in the town of Chenoa, a truly awesome courthouse in Pontiac, nice photos of the historic 1932 Standard Oil gas station in Odell, and other route 66 historic artifacts. Be sure to check out the sign for gasoline prices in 1932!

Shoe Tree in Rice, California (12/22/04) Gerald takes a 511 mile trip from Tempe to southern California to check on the current health of the fire-ravaged Shoe Tree and still-struggling Underwear Tree. Along the way he took in some beautiful desert scenery and snagged photos of some of the rock banners along California Highway 62 between Parker, Arizona, and Joshua Tree National Park. He also visited the town of Earp (named after Wyatt Earp) and Dome Rock Mountain near Quartzsite on his way back to Phoenix.
Pittsburgh, Pennsylvania (11/21/04) Proving the adage that any trip can be a roadtrip, Gerald Thurman flies to Pittsburgh and gets some incredible photographs of bridges, buildings, and murals. He sneaks away from his computer conference and travels along the famous Lincoln Highway while exploring parts of West Virginia and Ohio. The murals in Stubenville, Ohio, are outstanding, as are his photos of Frank Lloyd Wright's Fallingwater House in Pennsylvania. Gerald's five day visit to Pittsburgh culminates with a "Mystery Sandwich" at Chiodo's Tavern in the famous steel-working town of Homestead, Pennsylvania.
"Standing on the Corner in Winslow, Arizona" (11/06/04) Gerald travels to the town in Jackson Browne's "Take it Easy" song made famous by The Eagles. He wanted to check out recent fire damage at "the corner." While there, he stayed at the Franklin D. Roosevelt room at the historic Rte. 66 La Posada Inn, watched the trains go by, and checked out the local murals. His photographs and comments give a good look at an iconic, off-the-beaten-path western town.
Washington, D.C. (10/31/04) Gerald captured some awesome photographs of the monuments, buildings, and parks at the nation's seat of power. He also managed to find a field of cows, murals, gorgeous vistas, and autumn foliage. His five-day roadtrip also explored sections of West Virginia, Maryland and Virginia.
(8/15/04) Gerald Thurman completed a 6 day/5 night 2,255 mile, round trip exploration of the Great Basin departing from Salt Lake City, Utah. Along the way he visited the Bonneville Salt Flats, the little Sahara Dunes area, and Great Basin National Park. He found some incredible murals in Ely Nevada, explored the western outback of Oregon, scouted US-395 in California looking for shoe trees, and visited Craters of the Moon National Monument in Idaho. This report includes over 100 photographs and more examples of his pithy road trip commentary.
Midwest Road Trip (7/18/04)
Gerald's six day July roadtrip covered 1176 miles following back roads in Illinois, Wisconsin, Iowa and Minnesota. 122 photographs in travelogue format chronicle stops at the SPAM world headquarters, at the baseball diamond made famous in the movie "Field of Dreams," and the boyhood home of President Ronald Reagan in Dixon, Illinois. Thurman also found some truly incredible murals in Sterling, Illinois, and a huge collection of John Deere tractors at the National Farm Toy Museum in Dyersville, Iowa.

Tempe to Verde Valley, Arizona (6/27/04)
Leave Tempe at 9:00am heading east on US Hwy-60. Drive through Mesa, Apache Junction, Gold Canyon, Florence Junction, Superior, and Miami to Claypool. After driving 73 miles east on US Hwy-60, go north on AZ Hwy-88 into the Tonto National Forest..[More]
Tempe to Coolidge Dam (6/20/04)
I left Tempe at 8:00am heading east on US Hwy-60. US Hwy-60 in the eastern part of the Valley of the Sun is a littery expressway that goes through Mesa, Apache Junction, and Gold Canyon. It switches from an expressway to a four-lane highway just east of Apache Junction and it is at this point that I become happy to be on the road again...[More]
"Standing on the Corner in Winslow, Arizona"
On Memorial Day weekend of 2004 we took a two-day/one-night, 346 mile, road-trip to Winslow, Arizona. The purpose of the road-trip was two-fold: get out of town for a weekend; and, get a picture of...[More]

Gila Bend & Dateland
I haven't kept count, but I've probably driven pass Dateland, Arizona, a dozen times since 1985 without ever stopping. On Monday, 24 May 2004, I took a one-day roadtrip from Tempe to Dateland via Gila Bend and other places...[More]
Spring Break!
Catch a Sunday, 11:08am, flight from Sky Harbor in Phoenix to San Jose, California, arriving on-time at 12:01pm. It was a sunny day that allowed for some picture taking from 30,000 feet...[More]
US Hwy 60
The plan was to head west on I-10, exit the Interstate at Exit #45 to visit New Hope, continue I-10 west and exit at Exit #31 onto US Hwy-60. This is the western end of US Hwy-60 (it used to go to LA -- the eastern end is in Virginia Beach, VA.) The plan was altered when I could not find any visible signs of New Hope. Instead of returning to I-10, we took Vicksburg Road north to Vicksburg Junction and...[More]
Southeast Arizona
Day One: Leave Tempe, AZ, at 6:45am. It is dark and chilly. Thanks to Valley of the Sun urban sprawl, I can take Loop 101 south that connects to Loop 202 west that in turn connects to I-10. From my home in Tempe, the drive to I-10 is 12 miles non-stop. The drive south on I-10 was 3 miles before taking AZ Hwy-347 south. The town of Maricopa is 15 miles and AZ Hwy-84 is 44 miles. AZ Hwy-84 hits I-10 in 5 miles. The drive west on I-8 is a 33 miles scenic drive. Yes, some portions of Interstate are surrounded by Mother Nature...[More]

Top of the World
On Monday, 29 December 2003, I took a one-day, 134 mile, road trip to/from Top of the World, Arizona using US Highway-60. I left Tempe at 11:30am and returned home at 5:00pm. Why the Top of the World? I decided to drive to the Top of the World because for some reason it was given a dot in my Arizona Road & Recreation Atlas, and I wanted to know why. In addition, I wanted to hike Silly Mountain, re-visit Superior, go to the World's Smallest Museum, and get pictures of the Queen Creek Tunnel...[More]
The Apache Trail
Starting location is Tempe, Arizona. Enter the Apache Trail where Mill Avenue curves into Apache Boulevard and head east. It is 9:45am and already a sunny day. Apache Boulevard has a negative reputation in Tempe and political sign litter doesn't help improve stuff. The Apache Trail in Tempe will be part of the path for the future light rail transportation system imaginatively named Metro...[More]