The Phoenix One Journals Stories from the dawn of RoadTrip America
July, 1996
Sequim, Washington
KINETIC NIRVANA
We're calling the Olympic Peninsula home for a few days while the Phoenix receives some TLC from performance experts like "Dyno Dan" at Eric's RV Performance Center in Sequim. Mark has visions of cornering on two wheels and setting land speed records, but Megan and Marvin are hoping the Phoenix will stay on the ground at speeds below the sound barrier. Mark's driving proclivities do ensure, however, that we meet lots of professional mechanics.
After departing Why, Arizona, we enjoyed the hospitality of Mike Mekelburg in Ajo, and then spent several days exploring the area around Gila Bend. One of the highlights was riding in a new combine that was harvesting durum wheat on a ranch once owned by John Wayne. This memorable experience was arranged by Fern, Don & Stuart Myers who live in Johnson, Kansas. The Myers are custom harvesters who spend five to six months a year cutting wheat and other crops all over the west.
Thanks to an introduction by Tim Viens, who became our unofficial guide in Gila Bend, we enjoyed a one-egg breakfast with Donna & Ken Fackrell. Five other people enjoyed the feast, too, and there were still leftovers. Impossible? Not when you start with a really big egg! Really big birds are the specialty at Gila Bend Ostrich Ranch, which the Fackrells own. We especially enjoyed meeting "Big Red"-- from a distance. He's 13 feet tall and likes to pick fights.
After receiving an e-mail letter from RoadTrip America correspondent Ellen Crawford, we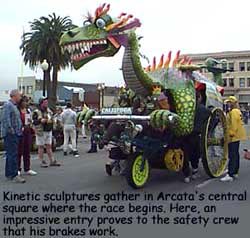 changed our planned route to Tucson and the Chiricahuas and headed for the north coast of California. Traveling at sub-warp speed, we blew through Las Vegas, bucked a tremendous head wind across eastern Nevada, scaled the Sierras and arrived in Arcata, California, in time to witness the crowning of "Quagmire Queen" Ann Beidleman at the start of the 26th annual "Great Arcata to Ferndale Kinetic Sculpture Race." This "Triathlon of Art" featured nearly two hundred human-propelled sculptures that competed for three days and fifty miles. Since Humboldt Bay, the Eel River, a muddy slough, sand dunes, and even a stretch of freeway are included in the course, the sculptures had to be both amphibious and versatile. RoadTrip America was able to cover the high points of the race thanks to Ken Beidleman, Beverly Hanly, Kathleen Diciolla & Larry Goldberg, Ted Suggs, Joe, Rosemary & Zachary Alexander, Hal and Jill Faulkner, and Bob Pusey. Our hats are off to Hobart Brown, the Ferndale artist who started it all back in 1969.
While enjoying the unparalleled beauty of California's north coast, we stopped at the world's largest redwood mill operated in one of the world's last "company towns." Pacific Lumber Company in Scotia offers a fabulous self-guided tour. We could have watched the hydraulic "barker" all day. It's a high pressure water cannon that can peel a log as though it were a Tootsie Roll. The rest of the mill is fascinating, too, from the giant "headrigs" that saw the huge logs, to the planing and gluing operations that make use of even the smallest pieces of lumber. Fortunately, earplugs are provided!
Our next stop was to visit Rosemary (Megan's cousin), John, Clare and Max Magee in Corvallis, Oregon. It was great to spend a couple of days catching up and exploring this beautiful college town. John and his colleague Dave Robben gave us a private tour of the Willow Lake Wastewater Treatment Plant that they manage in Salem, Oregon. We came away believing that you really can turn a sow's ear into a silk purse if you know what you're doing. Those guys are the alchemists of the modern world.
The next day found us consuming the food of the gods. Bob Kerr and Mike Moran led us on a tour of the Grand Central Baking Company in Portland, Oregon. Their cinnamon rolls are worthy of Olympus!
While we were in Portland, our Onan generator, essential to life in the Phoenix and publishing RoadTrip America, developed a case of chronic fatigue. Luckily for us, Evan Wiese at the Cummins Dealership in Portland was able to rev it up, and we're back in business.
We also now know the appropriate potion for the occasional human blahs. No, not espresso! Belly up to Seattle's Gravity Bar and slam back a double-shot of garlic-fortified wheat-grass juice. Our good friends Barb and Charlie Brister introduced us to this and other delectable treats during our visit to the Space Needle city. Kenzie and Katie Brister treated Marvin like visiting royalty, and he longs to return to their beautiful house and garden. Another treasure of Seattle can be found housed in the "Tool Crib" at the Boeing Surplus Sales Center in Kent. Park Peterson can show you more drill bits and jigs in more sizes and shapes than you ever dreamed of.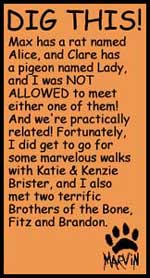 Jerome and Vincent Oliveras, assisted by Rick Lecher ensured that the Phoenix is "looking mahvelous," by giving her a "total makeover." In the 47 states and 4 provinces that we have traveled, Jerome and Vincent constitute the very best wash, wax and detail crew that we have ever found. Thanks for the great job!
Bob Moss treated us to a private bagpipe performance when we visited his and Elizabeth's beautiful home in Port Ludlow on the Olympic Peninsula. After a pause in Port Townsend, Port Angeles was our home-town for three days as we enjoyed the hospitality and friendship of Norma & Bob Wiggins. With the help of the Internet and the World Wide Web, we also met Larry & Carol Rosenblum, who hail from Pasadena and now call Port Angeles home. We enjoyed a lovely brunch with them in their retreat above Puget Sound, and they introduced us to Dennis Bragg, who interviewed us for local television.
In Sequim, where we paused while the Phoenix received a thorough going-over at Eric's RV Performance Center, we met Lorelle & Brent Van Fossen, traveling writers and nature photographers who are setting out on an eighteen-month odyssey across the continent. John Wilson took us to his hideaway at the John Wayne Marina. We enjoyed the lingering twilight at Dungeness, where we feasted on crab and clams and enjoyed a perfect view of Sequim Bay.
We continue to meet wonderful, caring people who are engaged in creative and life-enriching pursuits. Thanks for joining us and being a part of this continuing adventure. Special hello to our friends this month Brett Wiese, the Park Staff of the Mad Rivers RV Park, Erwin & Rosanne Corrow, Gray Kinnier Jr., Mary & Gray Kinnier, Gary Wyma, Ken Murdock, Karen Murray, the Staff of REACH, Rose Harrington, Joellen & Bob Hallmark, Dave & Louise Odgen, Ted Plumb, Claire Randall, Ben Davis, Laurrien Gilman, the Total Experience Gospel Choir, Don & Ralph Hahn, Kelly & John Padgett, and the Rangers at the Mt. St. Helens and Iron Horse State Parks. A special thanks to the professionals at the Evergreen Collision Center in Port Angeles, including Dave Anstett, Keith Holman, Mike North, David Larsen, Linda Henderson, Al Jaske, David Potter, Steven Muller.
Our itinerary is always subject to spontaneous combustion, but we plan to travel to Calgary to revel in the 1996 Stampede in early July. After that, well, there's always another rainbow to follow or wild goose to chase! See you on the road!