Restaurants of the Road
More Eateries

The Three Crabs
Sequim, Washington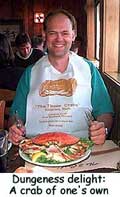 The Three Crabs has been welcoming hungry people to the beach at Dungeness since 1958, when three partners decided to open a restaurant featuring local seafood at the famous point on Washington's Olympic Peninsula.
One crab is a feast in itself, as you can see in the picture, and the menu also includes crab Louie, crab sandwiches, crab cakes, salmon, halibut, scallops, prawns and littleneck clams. "If you can't commit to just one thing," said our dining companion John Wilson of Sequim, Washington, "the 'Taste of Dungeness' is the answer." Sure enough, it had a little of everything, which added up to a lot!
The dining room is right on the beach, which meant that we had a panoramic view of the Strait of Juan de Fuca and a three-hour northwest summer sunset. It's no wonder that people make the two-hour trip from Seattle to eat at "The Three Crabs." It's worth an even longer journey.
The Three Crabs
11 Three Crabs Road
Sequim, WA 98382
(360) 683-4264
6/96