Snoqualmie Pass Train Tunnel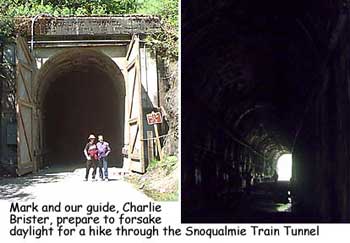 Have you ever planned a hike only to have the weather turn against you? Well, here's a place to hike where the weather is guaranteed! Yes, if you take a hike through the Snoqualmie Pass Train Tunnel in Washington's Iron Horse State Park, you can rest assured it will we dark, cold and wet.
The 2.3-mile tunnel was built between 1908 and 1911 by the Chicago, Milwaukee, St. Paul and Pacific Railroad and carried people and freight through the Cascades for over seventy years. It was the longest electric railroad in the world. Now the tracks are gone, but the railroad's right-of-way forms part of the popular 113-mile Iron Horse Trail, which is managed by the Washington State Parks and Recreation Commission.
Our guide and companion on our adventure was Charlie Brister, who lives in Seattle and told us about the tunnel. "Bring flashlights," said Charlie, "And sweaters. I've heard it's cold in there."
It was cold in there, all right, and wet, too. The flashlights saved us from stepping in deep puddles dug out by water falling from the ceiling. "At least we don't have to worry about trains," said Mark. We did have to watch out for bikes, though. The tunnel is popular with cyclists, and not all of them bother with lights.
Next time you're in the mood for a cold, wet hike in the dark, don't wait for the weather to cooperate! Just head for the Snoqualmie Tunnel, exit 54 off Interstate 90. You won't need any sunscreen!
For more information about the Iron Horse Trail, contact Lake Easton State Park, P.O. Box 26, Easton, WA 98925. Telephone: (509) 656-2586
6/96