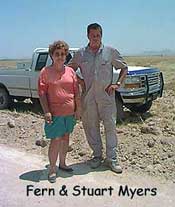 You've heard of custom drapes, custom cars, custom clothes, but did you know that if you've got a grain harvest to bring in, you can call custom harvesters to get the job done? City folks don't often get the chance to see how agribusiness really works, and we were lucky to cross paths with Fern and Stuart Myers in Gila Bend, Arizona. They gave us an insider's view of the gypsy lifestyle that puts pasta on all our plates.
Seventeen years ago Fern and Stuart had a small farm in Vulcan, Alberta. When a fire destroyed their combine, and they had to get a new one, they needed a way to pay for the expensive machine. The solution lay in hiring themselves out as harvesters to other farmers, and the ultimate result was Myers Harvesting, Inc., a custom harvesting company based in Johnson, Kansas. Together with their son Don, Myers travels six months a year harvesting corn, wheat, and other grains all over the Western United States. The seasonal crew this year includes Shane Goertzen, Soren Lancaster, Darryl Chrenek, Mick Rodermond, and Steve Kizlyk, all from Canada.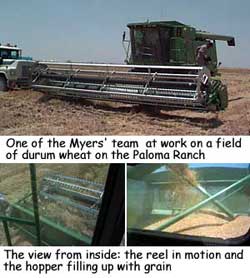 Fern invited us out to the Paloma Ranch near Gila Bend, where Stuart and the crew were harvesting durum wheat, which is used to make pasta. Paloma Ranch used to be owned by John Wayne, and covers over 60,000 acres. "Want to ride on a combine?" asked Fern. We jumped at the chance. We each climbed up into the cab of a shiny new John Deere, and watched as the specialized reel combed the wheat up in front of us. Behind us, we could see the hopper fill with grain through a glass window. The cab had comfortable seats and air conditioning, but operating the huge machine is no drive in the country. It takes skill and concentration, and mistakes can be serious.
"Stuart custom builds all our trucks," said Fern when we returned from our ride around the field. "This service truck has a six-person crew cab, and it's built on a Mack chassis." Later we saw the 'Myers Greyhound,' a converted bus that serves as home, office, and headquarters for the Myers when they're on the road. The seasonal crew lives in a mobile dormitory that sleeps six and has its own kitchen. Every vehicle in the Myers entourage is color coordinated and immaculately maintained. They make an impressive convoy when they're in transit.
"Our biggest challenge this year is Karnal bunt," said Fern as we drove over to the Paloma Ranch grain elevator to see the wheat unloaded. "It's a fungus that gives wheat a fishy flavor. If we harvest a field that's infested, we have to wash all our machinery down with bleach, and we may not be allowed to work in other states. They're testing here right now. We can only harvest fields that have been okayed by the USDA."
From our brief glimpse into the lives of custom harvesters, we gained a new appreciation for how the foods we often take for granted get to our tables. Let's hear it for the reapers!