Restaurants of the Road
More Eateries

Grand Central Baking Company
Portland, Oregon
The Grand Central Baking Company in Portland, Oregon, was packed when we arrived. People are happy to wait in line to choose from a tantalizing selection of thirteen different kinds of "rustic" breads and a variety of mouth-watering hand-made pastries.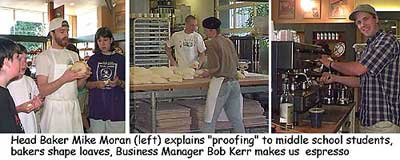 Business Manager Bob Kerr and Sales Manager Claire Randall greeted us with fresh coffee, and invited us to join a tour of the bakery led by Head Baker Mike Moran. We joined a group of students from Portland's Environmental Middle School and their teacher, Monica Semeria, for an insider's view of how Grand Central makes its popular wares.
It takes three days to make a loaf of rustic bread. Most of that time is spent in "proofing," or rising. Three thousand loaves a day emerge from Grand Central's ovens on Hawthorne Boulevard, and 1200 more are baked at the bakery's westside location. Restaurants and stores all over town look to Grand Central to provide them with gourmet bread.
After our tour, we sampled a cheese roll, a cinnamon roll, a scone, a "jammer," and some Calamata olive bread. Our final word on Grand Central's wares? Mmmmm. Every city should be lucky enough to have a bakery like this one.
Originally founded in Seattle by Gwen Bassetti, Grand Central Baking just celebrated its third anniversary in Portland, where Gwen's son, Ben Davis, is the company's General Manager.
The Grand Central Baking Company
2230 SE Hawthorne Blvd., Portland, OR 97214
Telephone: (503) 232-0575
6/96