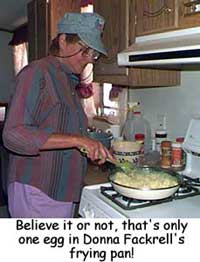 Maybe ostrich eggs and ostrich meat are common foods in some places, but this was our first time to sample big bird.
Ken
and
Donna Fackrell
, who gave us a memorable tour of the
Gila Bend Ostrich Ranch
yesterday, invited us back for breakfast.
Ostrich eggshells are valuable, so to empty one without cracking it, you chip a small hole in one end, scramble the contents with a skewer, and shake the egg out. One is enough to feed a baseball team. Donna had also cooked some ground ostrich meat, and she assembled delicious breakfast burritos for us. "The meat is low-fat and cholesterol- free," she said. "Can you ask for anthing more?" Well, we could ask for another burrito!
Joining us for breakfast at the Fackrells' ranch was Tim Viens, who moved to Gila Bend with his wife Karen Murray about a year ago. "When we got here, we liked what we saw, so we stayed," he says. "It's a special place. It's got a lot of history." Ken and Karen moved to Arizona from Lake Houghton, Michigan, where they had an automobile recycling business. "We sold metal to recycling companies and hard-to-get parts to owners of classic cars and trucks. We also designed and built custom car carriers for hot rod owners. Then, in 1982, we sold the business and began traveling."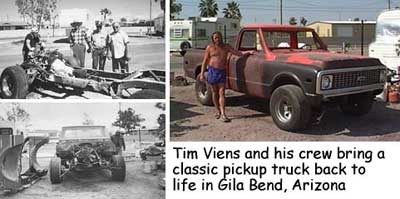 Recently, Tim reconstructed this pickup truck assisted by Brooks and Beanie, who are both octegenarians. Starting with a bare chassis, they searched junkyards and trash heaps until they had enough parts and body pieces. The truck now boasts a custom dashboard crafted and painted by Karen, and is on its way to becoming a masterpiece of craftsmanship and the art of salvage. "We never paid a cent for anything," adds Tim with a smile.
Tomorrow, we're heading out to the Paloma Ranch, owned originally by John Wayne, to watch custom harvesters bring in the wheat crop. We'll try to hitch a ride on a combine!