"Nothing Permanent Except Change"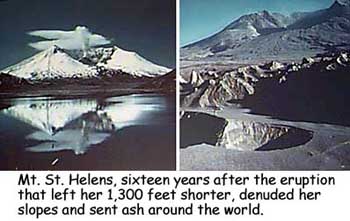 SILVER LAKE, WASHINGTON—
Where were you on May 18, 1980? If you happened to be within 500 miles of Mount Saint Helens, Washington, you probably remember it well. That was the day the volcano, which had been threatening to erupt for weeks, pulled out all her stops and exploded in a cataclysm ultimately felt around the world. When the gigantic pillar of smoke and ash subsided, Mt. St. Helens was 1,300 feet shorter and had a new crater 2,000 feet deep on her north side. The glaciers that had cloaked her summit were entirely gone. So were the forests, resorts, cabins, and even a lake that had attracted visitors for over a hundred years. What remained was a bleak moonscape.
Now, sixteen years later, Mt. St. Helens still looks desolated at first glance. It will take many more decades for trees to reforest the mountain's slopes. Even so, new life is popping up everywhere, as hikers and climbers will attest.
The Visitors Center operated by the U.S. Forest Service at Silver Lake, Washington, is an excellent way to "visit" Mt. St. Helens if you don't have the time or inclination for a close-up look. A movie and a slide show allow you to experience the cataclysmic day back in 1980, and exhibits explain volcanic action, plate tectonics, and the science of seismology. The people who died in the eruption are remembered too, including Harry Truman, the likeable octegenarian who stalwartly refused to leave his mountain and his cats.
As you leave the Center, you'll find yourself agreeing with the quote from the writings of Heraclitus on the sign over the door: "There is nothing permanent except change." A visit to Mt. St. Helens is a vivid reminder that even mountains don't last forever.
Mount Saint Helens Visitor Center
Silver Lake, Washington
Telephone: (360)274-2100