Ostrich Ranching in Arizona
5/24/04 Update: Gerald Thurman, while on a road trip around Gila Bend, reports that this ostrich farm is no longer operating. We've kept the article online because it's such a great example of what can happen when you don't have an itinerary.
"I first saw ostrich ranching in South Africa in 1972. I thought then that it would work well in America," says Ken Fackrell.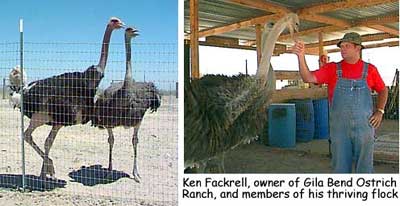 In February, 1995, Ken and his wife Donna set out to prove that southern Arizona's climate is ideal for the big birds. Eighty-one ostriches were on hand to greet us as Ken took us on a tour of Gila Bend Ostrich Ranch.
"A full-grown ostrich weighs in at about 400 pounds," said Ken as we stood in the shadow of 'Big Red,' a large rooster Ken boards for John Graves, an importer of African birds and animals in Phoenix, Arizona. "Big Red here weighs even more than that. He can run seventy miles an hour if he needs to, and he can run fifty all day long. He can also clear this six-foot fence, so you'll notice that he's behind several fences to make it a little harder for him." We also noticed the musculature of his thighs, and the size of his big toenail. "Ostriches are the only animals besides humans that kick forward," said Ken. "They can kill full-grown lions in the wild, so you have to know what you're doing when you get in a pen with them." Ken clearly knows his way around an ostrich. He showed us how he slips a sock over the head if he needs to administer medication. "If they can't see, they quiet right down." Even with the lights out, we weren't in a hurry to get too close!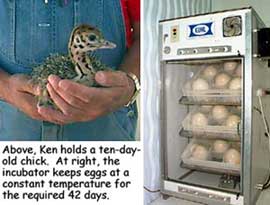 We did get close to the fence around the nursery, where Ken showed us the newest addition to his flock, a ten-day-old chick. "She'll grow about a foot a month at first," said Ken. "In about a year, she'll be full-grown." Inside the adjacent building, we saw where eggs spend the 42-day incubation period. The incubator not only maintains the correct constant temperature of 97 degrees Fahrenheit, but also rotates the eggs automatically. "I have only about fifty eggs here," said Ken. "I send more to Stephen Salter, who owns Big Bird Incubators in Gilbert, Arizona. He uses state-of-the-art equipment to track each egg's progress."
"Do you ever eat an ostrich egg?" we asked. "We eat infertile ones, and they're delicious," said Ken, "But you have to have enough eaters when you break one open. One egg is enough for about nine people." We asked Ken to tell us more about the market for ostrich products.
"Ostrich meat is a low-fat, no cholesterol red meat. It looks and tastes like lean beef. Ostrich hides are in demand for fine leather products, and the egg shells are popular with artists. The two biggest purchasers of ostrich feathers are IBM and General Motors. IBM uses them to clean computer components before they're packaged, and GM uses them to dust cars before they're painted. Nothing is more effective in picking up dust than an ostrich feather. Oil from ostrich toes is used in cosmetics, ostrich corneas are being used in transpants, and lately there's been evidence that an enzyme found in ostrich brains may be a cure for Alzheimer's disease."
Ken's business manager, Bill Casciato, told us how people interested in the ostrich industry can now become members of the Gila Bend Ostrich Ranch. "Members receive the quarterly newsletter of the Arizona Ostrich Association, free tours of the ranch when they're in the area, and an ostrich eggshell when one becomes available. It's a great way to learn more about this environmentally-friendly form of ranching." Membership is $70 a year, and details are available by calling or writing the ranch.
As we left Ken invited us to come back in the morning for breakfast. "You can try ostrich egg and ostrich meat both," he said. We're looking forward to a culinary treat, and we'll let you know what big bird tastes like tomorrow!
Gila Bend Ostrich Ranch
P.O. Box 832
Gila Bend, Arizona 85337
(602) 558-2131
5/96