Take Cash and a Truck!
February, 1999, Update

We knew it was just a matter of time! Boeing Surplus Sales has its own Web site where you can get an idea of the remarkable inventory that's currently available. No e-commerce yet, though! Click here to visit Boeing Suplus Sales online.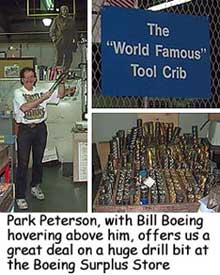 Take Cash and a Truck!
Boeing Surplus Sales
KENT, WASHINGTON

"People come here from all over the world," says Park Peterson, who has worked for Boeing Surplus Sales in Kent, Washington, for the last five years. "They always say they're going to the Space Needle... next!"
When you see what aircraft mega-giant Boeing is unloading for ten cents on the dollar, you can easily understand why their bargain center is such a draw. Are you in the market for a self-collating nutplate drill motor or a lockbolt puller nosepiece? You'll have lots to choose from, and you'll probably want to pick up a spare collapsible mandrel coldwork puller and a few morse taper holders while you're at it.
Need bits? Browse around World Famous Tool Crib . "It's a dentist's dream," says Park. "We've got bits that'll take care of an elephant's molar." Actually, his clientele is more likely to include rock hounds, pilots, hobbyists and entrepreneurs. "We probably stock every swap meet from here to Alaska," he comments. "A lot of people make a living off what they buy here and resell."
In other areas, everything from computers to office furniture is waiting to be adopted, and outside, you'll find the really big stuff. If you're lucky, you might even find a whole restroom unit from a 747!
Sorry, Boeing Surplus Sales doesn't sell by mail order, and they don't have a Web site. This is a place you have to go and experience in the flesh. Take cash and a truck so you don't have to pass up any "steals!"
Boeing Surplus Sales
20651 84th S
Kent, WA 98032
Telephone: (206) 393-4065

6/96