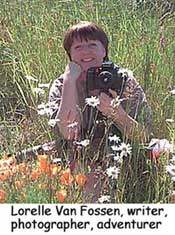 Professional nature photographers and writers Brent and Lorelle VanFossen will soon be claiming the open road as their home. Brent is originally from Tulsa, Oklahoma, and Lorelle is a fourth-generation Washingtonian from Seattle. We met them on the Olympic Peninsula where they are making final preparations for an eighteen-month odyssey across the continent.
The VanFossens' work appears regularly in national publications, and they offer classes and workshops in travel writing and nature photography all over the United States.
"We're headed for Alaska right now," says Lorelle, "And we'll be on the East coast for leaf season. Then we'll follow bird migration in the south, heading north in time for wildflowers in Canada. By then, we'll be heading into leaf season again." Equipped with a four-wheel drive pick-up truck and a trailer with a state-of-the-art mobile office, the VanFossens can be at home and at work anywhere in North America.
If you don't see them on the road, you can always find Brent and Lorelle in cyberspace. Click here to visit their home page. "The Internet is a major ingredient in making a mobile lifestyle work," says Lorelle.