Trains & Railroads: Links & Resources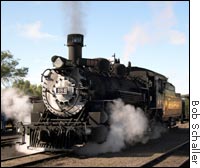 Cumbres & Toltec Engine 484

Pennsylvania Heritage: There have been active railroads in Pennsylvania since 1827, and there are a number of Web site providing information where visitors can view examples of both historic and modern-day railroading. Here are our recommendations for the best of them: Pennsylvania Tourism, Where & When in Pennsylvania, and Dream Vacation Magazine. (03/18/22)
---
Winter Photo Junket on the Silverton & Durango Narrow Gauge Railroad (3/13/05)
---
Cumbres & Toltec Scenic Railroad: Operating six days a week during summer & fall, this train takes tourists through the San Juan Mountains from Chama, New Mexico, to Antonito, Colorado. Click here for a 2004 field report. (9/26/04) (Link updated July 15, 2019)
---
"The Impossible Railroad:" The San Diego & Arizona Eastern Railroad, now known as the Carrizo Gorge Railroad, is back in business, and trains are once again crossing the tallest curved wooden trestle in the world.
---
Virginia and Truckee Railroad: This site features a very cool 360 aerial view of the V&T Maintenance Yard (and Virginia City) captured in August 2018 and also a virtual tour inside the V&T's Locomotive #18 during some maintenance work. The site is maintained by Howard Goldbaum who is a professor at the University of Nevada Reno, and his site has great photos and fascinating descriptions. (Updated October 9, 2019)
---
Canyon Diablo, Arizona: Guy Randall's visit to this ghost town, which was originally an 1880's railroad camp, includes photos of the amazing trestle that is still in use today plus a few tall tales about the hardy folks who lived and worked in the area.
---
27,000 Photos
:13 categories of train-related images, ranging from bridges, tunnels, and steam locomotives to in-cab shots. Kudos to Chris Kilroy for making this great resource available.
---
RTA Recommends
In Association with Amazon.com
Old Trains Never Die: They give weekend rides at the Orange Empire Railway Museum in Perris, California!
---
All Aboard: Travelogues about journeys on Amtrak and Via Rail Canada with plenty of photos
---
Tourist Trains 2003: The latest edition of this great guidebook cover train-related attractions in Canada and the U.S.
---
Train Orders Online: This site requires registration & a small annual fee, but provides unrivaled access to information about nationwide train operations and stunning photography of trains from around the world.
---
Rail Camp: High schoolers can work on steam, electric, & diesel locomotives in Newark, Delaware and Tacoma, Washington. (Updated July 15, 2019)
---
California State Railroad Museum: California's premier train destination (3/27/05) (Link updated July 15, 2019)
---
Gold Country Train Rides: Six-mile round-trip excursions on trains powered by steam locomotives in Jamestown, California (Link updated July 15, 2019)
---
Railroad Historical Societies: Exhaustive index of organizations throughout the United States (Link updated July 15, 2019)
---
The Durango & Silverton Narrow-Gauge Railroad: Colorado Rocky Mountain Adventure

---
"The Richest Real Estate Ever Discovered":Ride a vintage train through the Copper Queen Mine in Bisbee, Arizona
---
Still Making Tracks: The Steam Trains of Ely, Nevada
---
The World-Famous "Loop": Train Watching in California's Tehachapi Mountains
---
Queen of the Short Lines: The Virginia & Truckee Railroad in Virginia City, Nevada
---
All-Terrain Transport: View the U.S. Army's "Overland Train" at Yuma Proving Grounds, Arizona
---
Railroad No More: A Hike through Washington's Snoqualmie Pass Train Tunnel
---