"The Richest Real Estate Ever Discovered"
BISBEE, ARIZONA—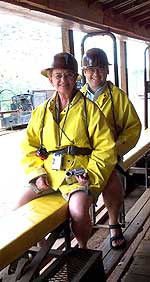 Former ore train now carries tourists!
Mining ended in Bisbee back in the early 1970's, but thanks to the enterprising efforts of the town's mayor, the Copper Queen Mine is still generating revenue and employing miners. These days, however, there's no digging and blasting. Instead, the miners take visitors inside one of the tunnels on an old train rebuilt to accommodate passengers instead of ore. It's a popular trip. Over 50,000 people a year don yellow slickers, hard hats, and battery-powered lamps to enter the mine for a chance to learn what it was like to work there from people who know firsthand.
The Copper Queen's lode was mined for nearly a century, from 1877 to 1975. During that time, the mine produced more than eight billion pounds of copper. In addition, substantial quantities of gold, silver, lead, and zinc were extracted from the ore, making the Queen one of the richest mines in Arizona.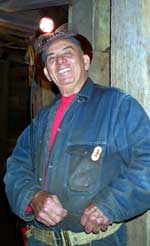 Juan regales visitors with a lifetime's worth of stories
Our guide, Juan, spent most of his career working in Bisbee mines. As we rode the train into the cool—the temperature is a constant 47° Fahrenheit—tunnel, he regaled us with personal anecdotes from his colorful past. At one stop, he instructed us to train our lights on a wall rigged with more than a dozen sticks of dynamite as he explained how miners used fuses of different lengths to create sequential explosions. "Then we would light them, and go and stand behind another wall," he said, summing up the extent of their safety precautions. As he continued to describe a day in the life of a Bisbee miner, it became clear that blasting was by no means the only perilous task. Challenges from cave-ins to bad air quality meant
After viewing ore samples, drills, elevator cages, ore cars, and even a toilet car, we re-emerged from the tunnel aboard the train and rode back to the visitors' center. Well worth the price of admission, the Queen Mine Underground Tour had given us a vivid glimpse into southern Arizona's rugged past and the continuing source of Bisbee's prosperity.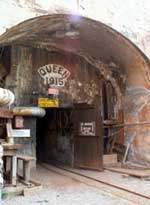 Entrance to the Copper Queen Mine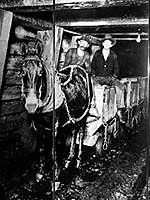 Back in the good old days--horse-drawn mine train