Riding the Rails
UPDATE April, 2003: Bill Stokoe, who is featured in this story, passed away in October, 1999. His remarkable collection of train memorabilia is still maintained by his wife Betty in Tehachapi. For train-watching info and awesome photos, visit TrainOrders.com.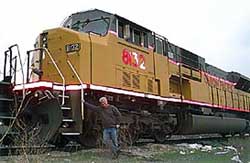 Bruce Jones & Engine 8132, brand new, state-of-the-art, computerized SD90Mac locomotive produced by GM
TEHACHAPI, CALIFORNIA—
Until last weekend, I considered train sightings chance occurrences, interesting but unpredicted surprises. I held this view for a simple reason. I am not a train buff, and I had never spent a day with one.
All that changed the morning we got up before sunrise and picked up Bruce Jones in front of his house in Sierra Madre, California. Bruce is a Renaissance man. In addition to his status as consummate train aficionado, he's a photographer for the Pasadena Police Department, a bus driver, and a dentist. We'd jumped at his offer to spend a day with us looking for trains in the mountains near Tehachapi, even if it did mean a rendezvous at 0-dark-hundred.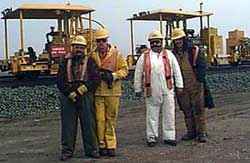 Union Pacific Rail Gang #8914: Tom Allen,
Armando Ibarra, and Arturo Godina
After a stop for a thermos full of the strongest coffee we could find, we took the Angeles Crest highway, which rises north from the Los Angeles basin over the San Gabriel Mountains. The sun came up as we reached the ridge, and painted the slopes bright gold. We wound down past canyons full of sycamores and to the sage and Joshua trees on the desert floor.
Following the flat road north, we passed housing developments with struggling lawns, a sign for Edwards Air Force Base, and billboards offering big stretches of desert for sale. In the distance, a Union Pacific freight train slid by, our first sighting.
At Mojave, we could see bare, wrinkled mountains rising sharply ahead of us. The Tehachapis were the reason we were here. They were the great challenge of nineteenth-century railroad builders, the barrier that kept the vast resources of the San Joaquin Valley separated from the port at San Pedro.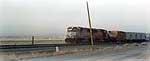 Our first 'catch'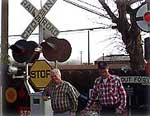 Bruce Jones and Bill Stokoe in Bill's back yard signal museum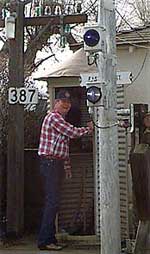 Bill at the control panel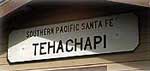 A bit of history: the sign from Tehachapi's old station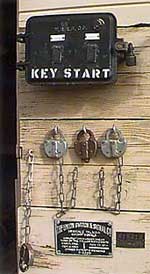 Signal locks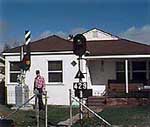 Bill lets his guests know when it's safe to enter
Sighting in the fog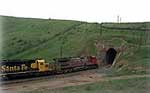 On its way to 'The Loop'
The elegant solution to the problem the Tehachapis presented was The Loop, a stretch of railroad that circles over itself in spiral fashion and allows a regular train to gain 77 feet of elevation in less than 4000 feet of track. It was built in 1876, and it's still as valuable as it was when it was new.
"The Loop attracts train watchers from all over the world," said Bruce. "For me, it's kind of like fishing. I like to bring a beach chair, find a good spot, and sit. Every once in a while, I catch one."
We were headed for The Loop, but our first stop was Cameron Station, where Bruce showed us a great place to park. "Real train buffs don't like to walk," he said. "They like to park where they can see trains from their cars, and then drive on to another spot." A train went by, our second 'catch.' "We're doing well," said Bruce.
We drove on past Monolith, the location of a cement factory that was a major supplier for the Hoover Dam. On the train tracks nearby, a rail gang was hard at work in the fog.
Mark pulled the Phoenix over on the shoulder so we could take a closer look at all the equipment. "Let's go over and say hello," I said, and that's how we made the acquaintance of Rail Gang 8914, a 50-man Union Pacific crew that works on the rails between California and Nebraska. From Monolith, we drove into the town of Tehachapi, where Bruce pointed out the best restaurants. We were about to head for The Loop when he suddenly said, "Take a left here. I want to show you something."
Soon we were looking at a truly remarkable back yard. Even a six foot fence failed to obscure the fact that it was chock full of railroad equipment. "Isn't this amazing?" Bruce asked.
"Hey, there's someone inside the house!" I said. "And he's waving!" I waved back. "We've got to stop."
The remarkable back yard belonged to Bill Stokoe, who was a signal supervisor for Southern Pacific for forty years. He's been collecting railroad paraphernalia for the last thirty. "Would you like to see my collection?" he asked as he opened his gate. He didn't have to ask twice.
Bill Stokoe's back yard was even more amazing than we suspected. Not only has he amassed a collection worthy of a museum, everything he has is completely functional. He told us where to stand and then activated a double arm semaphore signal that was manufactured in 1898. "This kind is still in use in some places," he said.
Next was a dwarf semaphore from Grand Central Station in New York. "I bought it off a guy in Ohio," said Bill. "Now look at this one. It's a 1912 Santa Fe model with a 'gull goose' on it." A 'gull gooser,' it turns out, is a serrated edge designed to discourage birds from sitting on the switch arm. "This one's an octagon frame wig-wag called a peach basket," Bill went on.
After a complete demonstration of all the signals in the yard, Bill invited us into his museum, where more signaling equipment is on display along with railroad china, locks, spikes, furniture, tickets, photos, and even a working porter-calling system used in Pullman cars. In my opinion, Bill Stokoe and his collection should be moved, lock, stock, and signal-arm to the Smithsonian. He's a walking encyclopedia of railroad lore, and his collection is world-class. Before we left, Bill took us around to his front yard, where a working signal notifies guests when to proceed with caution, stop, or walk right in.
Now we were really ready to take on The Loop, so we headed up the hill. Bruce explained the route the tracks followed as we wound upwards, and soon we parked at a good spot for viewing. Sure enough, a train appeared within minutes.
For the rest of the afternoon, we followed good train buff custom. We drove, stopped a while, walked a while, and drove on. We drove all the way to Keene, a small town near Bakersfield,before we decided it was time to head back. "But we could go back to The Loop before we go," said Bruce. "For one last look."
It was a good idea. We circled back and drove up a steep dirt track to a spot above the tracks, just in time for one last train sighting.
My day as a railroad fan was over, but I have new eyes now. I can spot a 'gull goose' at ninety yards. I know what a double-arm semaphore does. I've been to The Loop.
Thanks, Bruce and Bill and Rail Gang 8914. I'll never forget my day as a train buff.