Weather & Road Conditions: Tips and Resources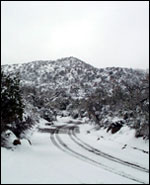 Oregon Live Weather Cams: The Oregon Department of Transportation has created a unique Web resource called TripCheck.com. Check road and weather conditions, get snow reports, and get live video images from scores of cameras throughout the state. (Link updated June 17, 2019)
---
National Weather Service: Quick & easy access to all U.S. weather warnings & watches, temperature forecasts, flood stage alerts, infrared & satellite imagery. The site also has a gallery of awesome photos of severe weather.
---
Federal Road Traffic and Conditions Page with links to both private and public providers, including Etak, Metro One, etc.
---
First Real-Time Internet Weather Service: Fast and accurate real-time weather info. Although nearly all the information is available at no cost, the $5 per year membership offers ad-free weather info and e-mail alerts (sent to member-specified computer or pager) about pending severe weather conditions.
---
National Interagency Fire Center: Updates on current wild fires, road closures, etc.
---
Road Geeks: Richard Moeur is a state traffic engineer. His site reflects his extensive collection of U. S. road signs.
---
More Road Geeks: Have you ever wondered if there is any logic behind the US Interstate Highway numbering system? Don Urs, from Irvine, California, alerted us to some entertaining & educational Web sites created by some self-designated Road Geeks. Check out the remarkable work of David "Zzyzx" Steinberg here and here, and if you really want to be astounded, click here!