Orange Empire Railway Museum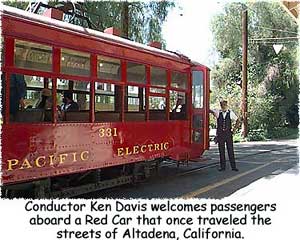 PERRIS, CALIFORNIA—

Attracted off the highway by the sight of of skydivers landing at the Perris airport, we found ourselves following signs for a railroad museum. As we pulled into the parking area of the Orange Empire Railway Museum, we were startled by a loud train whistle.This is a museum where old locomotives never die—they give rides to visitors every weekend!
The museum rotates historic cars and locomotives on the two tracks used for weekend visitor rides. You never know which ones will be running, and some equipment can't operate during rainstorms. On weekends when no other special events are being hosted, you can usually count on scoring a ride in both an early Los Angeles "Red Car" and a more modern commuter train on the half-mile "Loop Line." On the 1½-mile "Main Line," you'll usually board an open gondola or a caboose on a diesel or electric freight train unless you're visiting on a day when a Pacific Electric interurban car is running. Steam locomotives run on special occasions, which include one day of most holiday weekends. Check the museum's calendar of events for information.
The Orange Empire Railway Museum, now in its fourth decade, is staffed by dedicated volunteers like Ken Davis, pictured above.
Online:
Orange Empire Railway Museum