The "Impossible" Goat Canyon Trestle
GOAT CANYON , CALIFORNIA—
UPDATED NOVEMBER, 2003: PLEASE NOTE
[GETTING THERE][HELPFUL LINKS]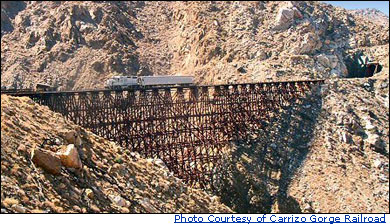 October, 2003: Engine #3878 crosses the Goat Canyon Trestle on the "Impossible Railroad"
This is a road trip for people who like to include four-wheeling and hiking in their adventures. The desert mountains to the east of San Diego include rugged wilderness areas noted for bighorn sheep, Swainson's hawks, golden eagles, and oases surrounded by native California palms. The Carrizo Gorge at the southern edge of Anza-Borrego State Park is a spectacular chasm and home to the Goat Canyon railroad trestle. Two hundred feet tall and 750 feet long, it's the tallest curved wooden trestle ever built in the world.
The construction of the San Diego & Arizona Eastern Railroad began during World War I in the steep-walled Carrizo Gorge near the town of Jacumba. Many people were convinced at the time that it couldn't be done, but John D. Spreckels, the "Sugar King," didn't rest until the "impossible track" was completed in November, 1919, at a cost of US$18 million.
In the eleven-mile stretch between Jacumba and the desert floor near Ocotillo, the tracks descend only 900 feet while the sheer canyon walls have drops of over 2,000. The difference was spanned by constructing 16 major tunnels and 21 trestles including the one across Goat Canyon. Although the route fell into disuse for a number of years and many Web sites (even "official" ones) suggest using the tracks as trails to explore the Carrizo Gorge, the route is currently being restored by the Carrizo Gorge Railroad. Heavy equipment and engines use the tracks daily in preparation for a reopening scheduled for early 2004. The railroad will provide freight service between the agricultural communities of Imperial County with the port of San Diego. PLEASE NOTE: Because of all the activity, hikers and bikers should not get closer than 100 feet of the tracks, especially around the tunnels.
In addition to freight service, CGR General Manager Geoffrey Scheuerman hopes to run an excursion train through the Carrizo Gorge. If all proceeds as planned, a ride for visitors should be available by summer of 2004. An interesting note in the revival of the Carrizo Gorge Railroad is that its equipment and staff played a vital role during the wildfires that struck the San Diego area in October 2003. When the California Department of Forestry requested assistance, CGR employees used railroad equipment and water tankers to help extinguish fires set by arsonists along the tracks.