The Steam Trains of Ely, Nevada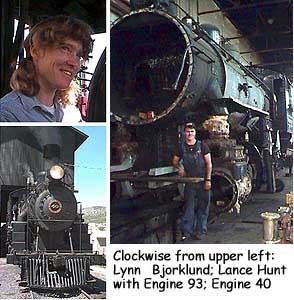 Ely, Nevada —
It was a sad day in Ely, Nevada, the last time we were there. On June 17, 1995, a runaway mining car filled with railroad ties came hurtling down the tracks and collided with Engine 93, a 1909 steam locomotive pulling passenger cars loaded with tourists. There were multiple injuries, a tunnel was rendered impassable, and Engine 93 was seriously damaged.
The town was still reeling from the accident when we left, and as we again drew near Ely, we thought about what had happened a year before. "I wonder if they've got any trains running," said Megan, and we drove to the depot to find out.
The news was good. Operations manager Lance Hunt told us the tunnel had been repaired within two months of the accident, and the other steam and diesel locomotives belonging to the White Pine Historical Railroad Foundation had resumed service as soon as the tracks were open. Insurance money was financing the reconstruction of Engine 93, and a team of specialists had been flown in from Alabama to help. "Work proceeds slowly, because every missing part has to be recreated," said Lance.
Lance introduced us to Lynn Bjorklund, the only woman train engineer in the country licensed to operate both steam and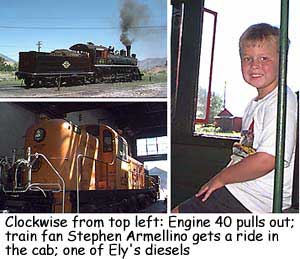 diesel locomotives. "Come on up!" she called, and we climbed up into the cab of Engine 40, a perfectly restored 1910 steam locomotive that once faced the scrap heap. "She was saved because some of the yard workers couldn't bear to see her go," said Lynn. "They actually managed to hide her while inspectors decided which locomotives to destroy." Lynn and Lance shoveled coal into the furnace in preparation for the train's morning run. When she's not wearing her engineer's hat, Lynn works for the Bureau of Land Management in Ely. "When I moved here, there wasn't a lot going on," she said. "Then I found out about these trains, and here I am."
For the ride from the engine house to the depot, Lynne invited Stephen Armellino, a seven-year-old railroad fan from Las Vegas, to join us in the cab. "I've loved trains my whole life," said Stephen. His grandparents had brought him to the right place. The Nevada Northern Railway is a train lover's dream come true.
Nevada Northern Railway Museum
P.O. Box 150040
East Ely, Nevada 89315-0040
Official Web Site: nevadanorthernrailway.net
August 3, 1996
August, 1998, Update:

Lynn Bjorklund is featured in the September, 1998, issue of Reader's Digest. It's a story worth reading.
On October 8, 1997, Lynn was camping with her brother in New Mexico's Pecos Wilderness when the two witnessed a plane crash. The pilot and his passenger were burned and injured.
Lynn, a record-holding distance runner, covered eighteen miles of rugged terrain on foot in less than three hours. She guided two helicopters to the crash site, and the two men were airlifted to safety.
"I don't think I did anything that anyone else wouldn't have done," Lynn said. "I just happened to be in the right place at the right time."