The Phoenix One Journals Stories from the dawn of RoadTrip America
August, 1996
Sagle, Idaho
GHOST WRITERS IN THE SKY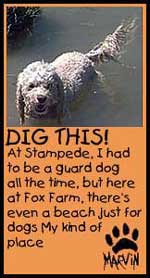 We've returned to one of the most serene places we've found during the course of our 28 months on the road. The days slip by softly at Fox Farm , an RV resort on the banks of the Priest River in northern Idaho owned by our friends Sandy Schulz and Jo Ann Ball. We are looking forward to visiting Sandpoint, a nearby town that we know from earlier visits is full of interesting shops and characters, not to mention great coffee and live music.
We celebrated the summer solstice with John Russell and Juli Saegar, who cooked a fabulous feast of mussels at their home in the Capitol Hill district of Seattle. We continued the celebration the next night with Barb, Charlie, Katie & Mackenzie Brister in Bothell, Washington.
The next day we caught glimpses of Mt. Rainier through clouds and thunderstorms while visiting with Mark's family at Lake Tapps. George & Betty Sedenquist, Mary Mueller, Ed, June & Marc Sedenquist, Bob, Marie, Bobby & Kristine Bragg and Donna, Dan & Gary Dansenburg were all there, making it a good-sized family reunion. Before leaving Seattle, we enjoyed a fabulous meal at the "Braggenburg" estate in Bellevue, where we enjoyed seeing Heidi Dansenburg and Mike, Judy & Eric Todd.
The social whirl delayed the completion of some of our writing projects, so we hunkered down in Issaquah, just east of Seattle, for a couple of days to catch up. While there, Megan infected another computer user with an addictive and time-consuming game called "Civilization." We hope that B.T. Dunn and Cathy Nye will forgive her some day!
While we were in Issaquah, we discovered The Herbfarm, an oasis of flowering and aromatic plants owned by Carrie Van Dyck and Ron Zimmerman in nearby Fall City.
A drive though the North Cascades en route to Canada meant we "bagged" our thirty-first national park. The trip was beautiful, and we'd like to return and spend a few days exploring the magnificent mountains, meadows and countless cascades that leave no doubt as to how the range got its name.
Rick & Gwen Splett made us feel welcome when we stopped for the night on the banks of the Crowsnest River in Blairmore, Alberta, where we also met local historian and gold prospector Fred Kuhn and his wife Marjorie. We were on our way to the
Calgary Stampede, to which we'd been invited numerous times by M'Liss Edwards, Megan's sister, and Ray Kristinson. While the thrill of watching world-class rodeo and chuckwagon racing are unforgettable, it's the friendly people that will be our fondest memory of "The Greatest Outdoor Show on Earth." Yahoo and thank you to the following wonderful people who made our visit great: Brian Ratcliffe, Megan Graff & Don Husereau, Evan & Charity Graff, Tony Wafta, Stephen & Mandy Hambidge, Troyan Mason & Paul Sontowsky, Ross Jepson, Brian & Wendy Leibel, Tom & Debbie Dyer, Mark Fuller, Sheri Baer, Daniel Maxey, Jane Carrigan & Jack Burmeister, Paul Flegal, Phil Pacaud , Dennis Halstead, Colin Beddoes, Richard & Justin Humphreys, Lisa Starlight, Nicole Yellow Old Woman, and Constables Poley & Goetjen. Special thanks to Jean & Mel Robinson for their gracious hospitality.
A disastrous mishap was narrowly averted when Kevin Burfield and the Service Crew at Westergard Motors in Drumheller, Alberta, found and replaced the missing bolt that secures the alternator. If it had come loose at highway speed... fortunately, we don't have to worry about what might have happened. We're grateful they worked us in on a busy day, and we still had time to visit the Royal Tyrrell Museum of Paleontology for which Drumheller is world famous.
As we sat gazing at the panoramic view of the Canadian Rockies from the upstairs window of the Grizzly Paw Pub & Brewing Co. in Canmore, Alberta, Keely Winnitoy brought us a taster's selection of hand-made brews. We liked the Beavertail Raspberry Wheat Ale the best, and enjoyed some great food along with it. If you're ever in Canmore, remember the name!
We had only one day to visit the Columbia Ice Fields and Lake Louise, but fortunately, when you're that far north in the summer, a day lasts a long time. After our whirlwind tour, we were happy to slide into the hot mineral pools of Fairmont Hot Springs, a traveler's paradise on the west side of the Rockies in British Columbia. While we were there, we had the pleasure of meeting Patsy Kachanoski, one of the resort's owners, and Brian & Patti Harberg, our next-door neighbors in Fairmont's beautiful campground. Way, way, too soon, we packed the Phoenix and hit the road again.
Our circle of friends has grown this month to include Dave & Chris Drewe, Ed Hutchinson, Al Weaver, and Monte Summers. We owe special thanks to Helen & Ed Gredvig, Pam Wilson, Brenda & Terry Cooper, Dennis Bragg and Gerry Casanova.
We don't know exactly where we're headed next. Montana? Wyoming? Saskatchewan? Manitoba beckons, and so do North Dakota and Minnesota. It's a big continent, and it seems to get bigger the more we travel! Stay tuned...