THREE HILLS, ALBERTA—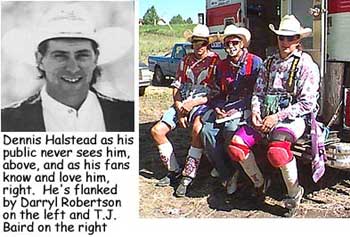 "Your rope is your lifeline. The clowns are life itself." So says professional bull rider Phil Pacaud, and he's talking about the unsung heros of rodeo life. The clowns may make the audience laugh, but they are far more than mere window dressing. They often make the difference between a succesful bull ride and tragedy.
Dennis Halstead of Okotoks, Alberta, is a member of this elite profession, which demands a wide spectrum of skills. Not only must a clown be in superb physical condition, he must also be proficient in bull fighting techniques. To top it off, he must be a polished comedian with the ability to keep his audience amused while remaining alert and ready to respond to the often unexpected twists of a rodeo.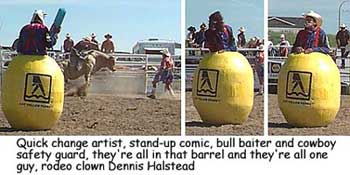 Dennis makes it all look easy, and so do Darryl Robertson and T.J. Baird, the two bull fighting clowns who joined him at the Three Hills Rodeo in Three Hills, Alberta. While Dennis performed from his barrel, Darryl and T.J. stuck with the bull. They have a two-fold mission: to make sure the bull bucks enough for the cowboy to earn a good score, and to make sure the cowboy clears hoof and horn safely after his ride. Unlike horses, which usually try to avoid stepping on humans, rodeo bulls make every effort to attack and injure anyone in their way. They're bred to be feisty, and riders need the assistance of the clowns to reach safety when a 2,000-pound bull decides to go on the rampage. Sometimes a bull will head for the barrel with Dennis inside, and it's designed to withstand a roll. At Three Hills, however, he managed to remain upright, emerging every minute or two in a different mask.
When he's not on the rodeo circuit, Dennis is a full time firefighter with the Calgary Fire Department. He also donates his time and skills to the "Stay In School" Program in Calgary and Camp Horizon in Banff, a summer camp for children with terminal diseases. "I like giving something back to the community," he says. "It's given a lot to me. I'd also like to thank my sponsor, AGT, the telephone company. They make it all possible." We'd like to thank Dennis Halstead for making rodeo fun to watch and safe for cowboys, but if you want to hear his jokes, you'll have to track him down on the pro rodeo circuit. You'll find him somewhere in the West between March and October. He's the one in the yellow barrel.
7/96