Restaurants of the Road
More Eateries

The Grizzly Paw Pub
Canmore, Alberta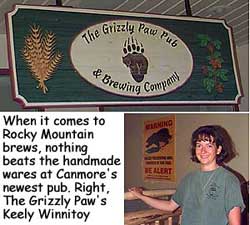 You might think it difficult to relish something called "Granny Bee's Sludge," and you might wonder about the ingredients in a dish named "Bear Scat." Maybe the splendid view of the Rockies provides a distraction, or maybe it's the fact that you can wash them down with a splendid selection of hand-crafted beers, but we found the food at The Grizzly Paw Pub & Brewing Company in Canmore, Alberta, simply delicious. We especially enjoyed the "Sundried Tomato Pate" and the "Alpine Hiker's Pepper Stew."
Keely Winnitoy, a member of the founding staff of the Rockies' newest brew pub, served us a taster's selection of The Grizzly Paw's brews. The "Rutting Elk Red Ale," the "Grumpy Bear Honey Wheat Ale" and the "Bighead Nut Brown Ale" were great, but the "Beavertail Raspberry Wheat" and the "Grizzly Fifty" bitter were so good we ordered some in bigger glasses.
There's way too much to enjoy at The Grizzly Paw to do it all in one visit. We departed still hankering for a taste of "Granny Bee's Mountain Roughage Ensemble Soup," for example, and the menu offers selections from other micro-breweries as well as an extensive variety of single malt whiskies. If you find yourself on the Trans Canada Highway a few miles east of Banff, ask manager Niall Fraser, to introduce you to The Grizzly Paw's latest works of culinary and brewing talent. And ask to sit in the non-smoking section. It's upstairs, and has a fabulous view of the Rockies!
The Grizzly Paw Pub & Brewing Company
622 - 8th Street
Canmore, Alberta T0L 0M0
(403) 678-9983

7/96