Calgary Stampede Indian Village
CALGARY, ALBERTA—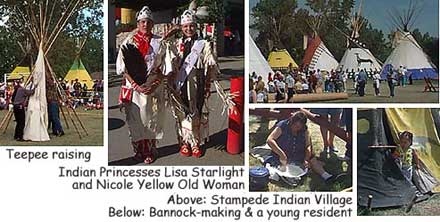 Calgary Stampede's Indian Village gives visitors a chance to take a peek into the heritage and lifestyle of Plains Indians. Beautifully decorated teepees, where families actually live in traditional style during Stampede, are open for viewing. Outside, dance and craft demonstrations go on all day.
We watched a woman make bannock, a native bread, and then stayed for the Teepee Raising Contest, a timed, round robin tournament that continues throughout Stampede. We watched two four-member teams begin with poles, pegs, pins, and canvas at one side of the arena. At the start signal, the teams carried everything to a designated spot and raised teepees, but that's not the end of the contest. After inspection, the teepees have to be dismantled and carried back to the original starting line. Points are awarded for speed going up and coming down, the position of poles, canvas, pegs, pins, door, and teamwork. At the end of Stampede, the winning team will win CN$1000. Believe it or not, the teams we watched raised their teepees in just over four minutes! They came down even faster!
We were fortunate to meet the Stampede Indian Village Princesses, Nicole Yellow Old Woman and Lisa Starlight. Nicole, whose Indian name is Silent Raider Woman, is a native Calgarian from the Siksika Nation. She plans to attend law school after college. Lisa is a member of the Tsuu Tina Nation. She will be attending Mount Royal College in Calgary this winter. Both were wearing the beautiful beadwork and clothing for which the Plains Indians are known all over the world.