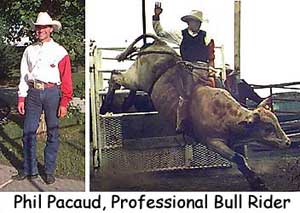 Bull riders are the fighter pilots of rodeo. In their quest for the perfect eight-second ride to glory, they risk serious injury or death. "And it's addicting," says Phil Pacaud, a bull rider who has been competing since he was 13 and riding professionally for the last seven months. "Once you get it in your blood, you can't get it out."
Phil, 25, grew up on a farm near Tabor, Alberta. "I'm a first-generation cowboy," he says, "And my family's had to get used to it. Fortunately, they've come to respect what I do, but my mother has offered to buy me any horse I want if I'll only stop riding bulls."
Eight seconds aboard two thousand pounds of bucking beef is an eternity, and it's no easy feat to learn how to do it. Beginning riders start out on steers, and move up to young bulls. Full-grown bulls bred for bucking ability are the goal, and many riders attend bull fighting school to learn basic technique. "But it's really a self-taught sport," says Phil.
Breaking into professional riding requires not only athletic skill but tenacity in climbing the ladder to the pros. The first step is a permit issued by the Professional Rodeo Cowboys Association. It allows participation in a limited number of semi-professional rodeos. "When you earn your first US$1000, you get your actual card," explains Phil, "and that makes you a pro. But there are still more ladders to climb. At the top are events like the Calgary Stampede, where the purse is worth CDN$50,000."
Phil is committed to pursuing his dream of becoming a world class bull rider "for as long as it takes." Right now this means he rides in more than three rodeos a week from May to October. He puts "a lot of miles" on his Ford truck as he travels to events in Alberta, British Columbia, Montana, Utah, Idaho, Washington and Texas. We caught up with him at a rodeo sponsored by the Foothills Cowboy Association in Three Hills, Alberta.
RoadTrip America® salutes Phil Pacaud in his quest for eight seconds at the top of the world!