The Herbfarm
August, 2006 UPDATE: The Herbfarm restaurant moved to Woodinville, Washington, after the original restaurant burned in a fire in 1997. The Herbfarm is located about twenty minutes from downtown Seattle, [Map] next to the Sammamish River on state Route 202. In addition to the fabulous restaurant, there is an 80-room lodge on the property. Gardens on the property (and more just down the road) still supply much of the organic produce used to prepare the legendary nine-course meals served to guests each night. The Herbfarm restaurant has earned the prestigious AAA Five-Diamond Award for the past four years. The story that follows is about RoadTrip America's visit to the Herbfarm when it was located in nearby Fall City in 1996.
FALL CITY, WASHINGTON—
If any place could convince us to stop exploring and put down roots, it's The Herbfarm in Fall City, Washington. Wandering through the rows of medicinal, aromatic and culinary herbs would tempt even the most dedicated nomad to put spade to soil and start a garden. We had to be content, however, to just stop for a moment and smell the flowers. Fortunately for us this is lavender season, and The Herbfarm's twenty different varieties are all in bloom, just in time for "Lavender Weekend," a special festival The Herbfarm holds every year in honor of this versatile aromatic plant.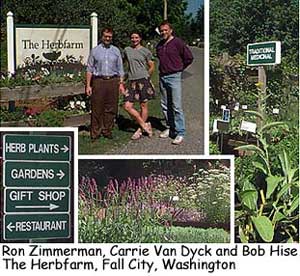 The Herbfarm, however, is far more than a nursery. With more than three hundred classes a year to choose from, visitors learn herbal cooking and crafts as well as gardening and the medicinal uses of herbs. We walked by a group learning how to make lavender soap.
And there's more! At the internationally acclaimed restaurant, you can enjoy a remarkable 6-course luncheon or a 9-course dinner including such delights as King Salmon in Squash Blossoms with Begonia Confetti or Wild Bigleaf Maple Blossom Ice Cream with Roasted Dandelion Sauce. We wish we could report from personal experience, but reservations are booked months in advance!
The Herbfarm also has a delightful shop filled with herb-related gifts. For those unable to make the trip to Fall City, a mail order catalog is available, and a Web site is in the works.
The Herbfarm had its beginnings in a wheelbarrow full of potted herbs that Lola Zimmerman parked under a walnut tree with a sign reading "Herb plants for sale." Now, twenty-two years later, Lola's son Ron Zimmerman is The Herbfarm's President, and Ron's wife Carrie Van Dyck is The Big Cheese, "because you can't have two presidents," she says. Graphic designer Bob Hise has been with the company for over a decade.
The Herbfarm is one of those rare and wonderful blends of nature, imagination, serendipity and tradition. If you ever get there, you'll want to sit down under a walnut tree and stay a while.