Chuckwagon Races
CALGARY, ALBERTA—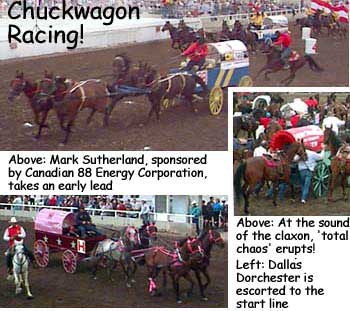 Chuckwagons may have been invented to provide food for cowboys out on the range, but at the Calgary Stampede, 36 chucks and their crews turn out with nary a pancake on their minds. The Chuckwagon Races are the wildest and most popular event at Stampede. In heats of four teams each, the crews barrel around the track in nail-biting competition every night for ten days. The winner of the final 'sudden death' heat takes home a check for CDN$50,000.
At the sound of a claxon, four outriders fly into action. In what looks like total chaos, one holds the horses while others hurl items representing a stove and other cooking implements into the back of the wagon. Once loaded, each wagon completes a figure eight around a set of barrels, and then charges out onto the track at breakneck speed. The outriders have to cover a prescribed distance on foot, then jump on their horses and catch up. Their teams lose points if they don't finish the course within 150 feet of their wagons. Penalties are also imposed for interference and loss of "cooking equipment." The track is 5/8 of a mile long, and the wagons can run in it just over a minute.
There is debate over the origin of chuckwagon racing. Some oldtimers say it developed out of wagon races cowboys used to hold on the open range. Others say it recalls land rushes, when settlers raced in wagons to stake their claims. Guy Weadick, however, Stampede's founder back in 1912, maintained it was his idea, inspired by the round up crews who raced to the nearest saloon at the end of the day. Whoever is right, chuckwagon racing has become the signature event at the Calgary Exhibition & Stampede.