Restaurants of the Road
More Eateries

Monarch Mountain Coffee
Sandpoint, Idaho
Monarch Mountain Coffee, a coffee house and specialty roaster in Sandpoint, Idaho, offers far more than great java. If you've ever wondered what goes on behind the scenes in a coffee roastery, you can ask owners Kathy and Dan Garcia to give you a tour.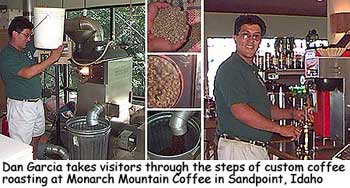 Dan showed us several kinds of green beans, and roasted some Ethiopian coffee in his custom-made air roaster, which can handle thirty pounds at a time and completes the job in eleven minutes or less, depending on the style. The beans are done when they reach a temperature of 460 to 480 degrees (Fahrenheit), and we watched them turn from pale green to rich brown though the glass window of the roaster (pictured above center). As soon as the beans were cool, Dan treated us to a sample of the most freshly roasted and ground coffee we've ever had.
Dan and Kathy hail from Alaska, where they left successful corporate careers to follow a dream that began on their honeymoon when Dan said, "I want to have a coffee house in Sandpoint, Idaho." After nearly three years of reasearch, Monarch Mountain Coffee was born. Just recently, Dan and Kathy moved Monarch to a location with a spectacular view of Schweitzer Mountain. "Altitude and air quality make a difference, not only to people, but to coffee," says Dan. "Our coffee is mountain air roasted and mountain air fresh."
In addition to a full array of brewed coffee and espresso drinks, Monarch has a great food menu. We especially enjoyed their pasties, a version of the traditional British recipe made with fresh croissant dough. The "Popeye" had spinach, feta, fontina, pesto and pine nuts, and the "Black Forest" had Black Forest ham, Monterey jack cheese, and spicy mustard dressing. We wish they were available by mail order, like Monarch coffee is!
Dan & Kathy Garcia
Monarch Mountain Coffee
208 N. Fourth Ave.
Sandpoint, Idaho 83864
(800) 599-6702

8/96