The Phoenix One Journals Stories from the dawn of RoadTrip America
June, 1996
Why, Arizona
ROCKIN,' ROLLIN,' RIDIN'
Why, Arizona? Because that's where we are! And now for who and what...
Driving along Interstate 8 yesterday through the Sand Hills area west of Yuma, Arizona, reminded us of a glorious sunset we shared with our friends Susan Lee and Gordon Reetz from atop the Kelso Sand Dunes in the Mojave National Preserve. We felt like Lawrence of Arabia slogging our way up those deceptive slopes of blowing sand. It looks easy in the movies, but in real life, it's work! The lee edge of the dunes have a cornice that rivals anything we've ever seen on a ski slope. Once we reached the crest, however, and watched the sun go down, we knew no movie could ever capture what it's like.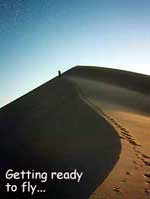 Going up may have seemed a Sisyphean task, but getting down was nirvana. Gordon, who is a Resource Specialist with the National Park Service and very familiar with the dunes, suggested we simply jump off the edge and "run down the slope". After he demonstrated the method, and we watched him disappear down what seemed like a vertical, 500-foot drop, we figured we'd better join him. The amazing thing is that you sink up to your knees in the sand. If you raise your arms and lean into the fall line, you get the delicious feeling that you're "flying" down the face.
Our second surprise was that the dunes sing! The shape of the sand particles at Kelso creates a harmonic as they move and a deep hum results. You feel the sound as much as you hear it!
Pasadena, California, was the resting spot for the Phoenix One several times this last month as we prepared to return to the open road. We did, however sally forth on a couple of adventures. Charlie Brister, our friend from Seattle, has suggested via several e-mail messages that we seemed to be settling down, Not us, we swear! We've driven nearly 2100 miles this month. We know that's not any more than a typical Los Angeles commuter, but at least it proves we haven't been stationary!
One exciting excursion was to the Muroc Reunion, a car race held on Rogers Dry Lake at Edwards Air Force base. The Space Shuttle occasionally touches down here, but on the 27th of April the surrounding desert echoed with the roar of an amazing variety of racing machines, including motorcycles, dune buggies, classic roadsters, hotrods, and "streamliners," many of whom hold land speed records in various classes. This was the first time since 1941 that racing enthusiasts had had the chance to run on the lake bed.
We're grateful for the wonderful hospitality that the racing teams and officials gave us during the meet, especially George, Jim & Micah Radnich, Mike, Les, Michael, & Harriet Littlefield, Bob Hyde, Bill Finocchio, Rick Bowlen, Ed Tradup, Jim Socci and Brian Westerdahl.
A few days later, the night sky near the Mexican border held us enthralled as we gazed up from the De Anza Springs RV Park hot tub. Our friends, Bill and Jean Price and Richard and Coralee Stephenson, are the managers of this well-kept secret near Jacumba, California, where Marvin especially enjoyed playing with his new friends, Bubba & Radar. We were very pleased to spend a delightful morning with Don and Grace Helen Weaver. Long-time residents of Jacumba, they shared stories with us about life in this beautiful and challenging desert.
The possibility of finding gem-quality tourmaline led us to go exploring with Charlie Sedenquist. After searching the quartz pegmatites in the canyons near Mt. Tule, we went underground on a tour of the famous Himalaya Mine near Lake Crenshaw. While we didn't find any gems, we came away with photographs, memories, and a yen to go back.
Next we overnighted in the shadow of the Queen Mary in Long Beach, after having Nate Jones install and gryo-balance the Phoenix's new tires. Much to Megan's delight, Nate suggested that Mark might get more miles out of our tires if he slowed down on the highway. Mark may have listened, because the memory of changing a tire on the side of the Santa Ana freeway in heavy traffic was still fresh. On the other hand, the Phoenix really zooms on its new, nicely-balanced tires!
San Diego was our next port of call, where we visited with Gonja Wolf and Dale Sedenquist. Gonja and Dale are both gifted and versatile artists. They are also excellent cooks, and we enjoyed a memorable dinner with them.
The list of friends and readers of the Phoenix One Journal continues to grow. Joining the journey this month are Dr. Mary Ann Sund, Ron Gillentine, Charles Grant, Pam, Lauri, Jo-Ann at Denram Publishing, Marge & Joseph Wyatt, Jim Eberhardt, Ron Cressman, Lorna Blaine, Cathi & Mike McDade, Irene Sang, Dr. Kevin Scoggin, Ed Moreland, Dave Powell, Sonja Norstedt, Kay & Chris Abel, Bob Lundy, Charmaine Bailey and Greg & Ed Parker.
Like a Phoenix, RoadTrip America has flexed her wings and is getting ready to soar. Only a few weeks ago, the magazine existed only as a handful of files in a computer. Now, it is being read and viewed by hundreds of people throughout the United States and Canada. Our readers are also checking in from some thirty-seven countries from around the world, including Germany, Japan, Sweden, Norway, Indonesia, Australia, Hungary, Mexico, Iceland, Costa Rica, New Zealand, Uruguay, Peru, Israel, and more every day! We are averaging 9,875 "hits" each day, and we've been selected as a "Site of the Week" by the MicroSoft Network.
We are on our way north now. See you soon on the road!