We went to see Don Weaver because townspeople in Jacumba, California, said that he was the one to talk to if you want to know about prospecting. We did want to know about rocks. We'd heard there's tourmaline in the mountains east of San Diego, just north of the border with Mexico.
Don Weaver knows geology. He knows it from a long-term relationship with the land, first as a prospector and later as the purveyor of ornamental crushed rock to roofing distributors all over California. As we spoke with Don and his wife Grace Helen, however, it became clear that their story went way beyond pegmatite dykes and quartz outcroppings. It began far away from the California desert.
"I was born on the Cimarron River in a plum thicket," says Don. "Renegades were chasing my parents. After my mother had me, my father said, 'Leave that little spotted pony for Don. He'll catch up with us.'" As we listened to Don's tales of serving on an aircraft carrier in World War II, coming west to settle in California, and staking his mining claims, we had no doubt that Don caught up easily on that spotted pony, and hasn't been left behind since.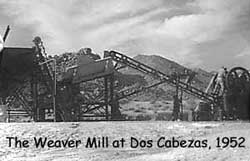 In 1951, Don built a rock crushing mill at Dos Cabezas. He used the San Diego & Imperial Valley Railroad to ship white limestone to roofers. "It was too hot to use trucks, and the road was too bad," he recalls. "It was hard to keep workers, too." Later Don built a portable mill that he could move from location to location.
Don also prospected in Arizona, and sold a profitable option on a gold claim. "They never did anything with it. The gold's still there," he commmented.
In 1966, Don came back to Jacumba to join his wife and family. Grace Helen, who was born in San Diego, has called Jacumba home since 1926. Don continued developing his rock crushing business and eventually sold it.
"Uncle Donald, he's the chief," say members of Don's family, and they aren't just reaffirming his leadership ability. Don Weaver is a member of the Delaware tribe, and the leader of 1600 Native Americans. In the picture above, Buffalo Shadow is holding his chief's calumet. Often called a 'peace pipe,' this unique work of art was crafted from rare exotic woods by Don's nephew, James Powell, an artist in Tucson, Arizona.
Don Weaver celebrated his eighty-first birthday on May 8, 1996. We join with Grace Helen and his family in wishing this American leader many happy returns.