Rockhounding in San Diego County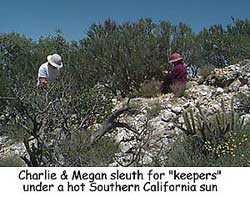 BOULEVARD, CALIFORNIA—
As we left the Jacumba area, we decided to follow a lead given to us by veteran prospector Don Weaver. His directions led us up into the mountains north of the little village of Boulevard, California.
Accompanied by tireless rockhound Charlie Sedenquist, we headed off-road in our trusty Phoenix One looking for quartz outcroppings, the likeliest places to find gems. We paused on the nearly vertical slopes of Mt. Tule in the McCain Valley to admire the view from the Sacatove Overlook. In the distance we could see several of the wooden trestles and two derailed cars from the Impossible Railroad, built in 1912 by sugar king John Spreckles. All around us were trenches, tailings, and old mining claims, clear evidence that we were not the first people to come to Tule Mountain in search of tourmaline.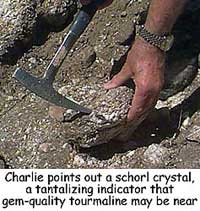 After threading our way along a narrow jeep trail, where the Phoenix acquired a few more "character scratches," we found a dry wash full of schorl-studded rock. Schorl, we were informed by Charlie, is an early phase in the formation of gem-quality tourmaline, and its presence "means you should keep looking for the good stuff."
Your RoadTrip adventurers were not ultimately successful in finding a rock to retire on, but we did have a great time looking. Megan may have been bitten by the rockhound bug, but it's too early to tell if it's terminal. Marvin got a pawful of cactus spines, but was very brave while Mark and Charlie pulled them out with tweezers.