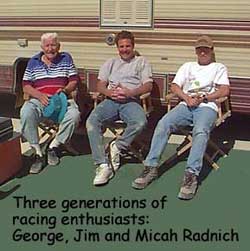 EDWARDS AIR FORCE BASE, CALIFORNIA—
Attending the Muroc Reunion at Edwards Air Force Base on April 27 & 28, 1996, was George Radnich of Joshua Tree, California, accompanied by his son Jim and grandson Micah, also of Joshua Tree, California. George has been an avid race car enthusiast for over half a century and is one of the founders of the world-renowned racing events held annually at Bonneville Salt Flats, Utah.
"In 1949," says George, "We needed a better place to race. We'd been running at El Mirage, near Adelanto, California, but things weren't ideal. The board of the Southern California Timing Association -- I was the secretary/treasurer -- approached the city fathers of Salt Lake City, Utah. The Bonneville Salt Flats are about sixty miles away, near the town of Wendover. We convinced them we had a good idea, and they gave the go-ahead as long as we could prove we had insurance."
Lloyds of London came through with the policy, and Bonneville's first meet attracted over a hundred competitors at $75 apiece. "We dragged the surface with train rails," says George. "It's a five-mile course, and you have to run both ways if you're going for a record. Our timer was Otto Crocker. He had the best clock in the country at the time, accurate to better than a hundredth of a second."
In 1952, George drove the Bonneville course in his "Newhouse Special," a car crafted from the wing tank of a World War II fighter plane. About 12 feet long and shaped like a teardrop, the "Newhouse Special" clocked 163 mph.
For more pictures from the Muroc Reunion, click here.