Joshua Trees and Singing Sand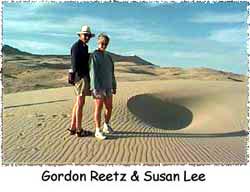 MOJAVE NATIONAL PRESERVE, CALIFORNIA—
Formerly a Bureau of Land Management scenic area, the newly created Mojave National Preserve includes 1.4 million acres of spectacular wilderness in the desert east of Barstow, California. Pictured here are Gordon Reetz, National Resource Specialist and a member of the park's planning team, and Susan Lee, Senior Geologist with Aspen Environmental Group.
Susan and Gordon took us to the top of the Kelso Dunes, where we watched a glorious sunset. While the slope of the sand looks benign in the picture, climbing the dunes was a near-vertical challenge in places. The trip down made the climb well worth it. As we ran down the dunes, submerged thigh high in sand, we enjoyed another unusual feature of the Kelso Dunes. The sand sings! Booming chords resonated as we tumbled back to the desert floor. The next day, we explored the erstwhile health resort of Zzyzx and drove through the largest Joshua tree forest in the world.
Full of hidden treasures like ancient petroglyphs, unusual rock formations, historic buildings and mines, and even underground caverns, Mojave National Preserve is accessible from both I-40 and I-15 about 150 miles east of Los Angeles. Excellent maps and information are available at the Visitors Center at the base of the World's Tallest Thermometer in Baker, on I-15. If you go adventuring, don't forget to carry lots of water and a flashlight!
4/96