Himalaya Mine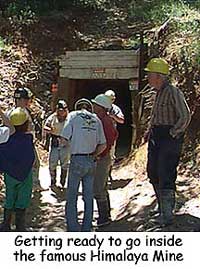 FALLBROOK, CALIFORNIA—
Joining a field trip sponsored by the Gem & Mineral Council of the Natural History Museum of Los Angeles County, RoadTrip America journeyed to the mother lode of North American tourmaline deposits. Exploration of the Himalaya Mine began in 1898. The Himalaya has produced more gem tourmaline than any other mine in North America.
Our adventure started with a behind-the-scenes visit to the Collectors' Shop in Fallbrook, home of the internationally famous gem and mineral collection of mine owner Bill Larson. While we were there, Edward Boehm, gemologist/geologist with Pala International, Inc., told us how he locates new tourmaline deposits.
After an hour's drive into the mountains, John McLean, who has been the superintendent of the Himalaya Mine for seventeen years, led us 700 feet into the main tunnel. We felt privileged to get anywhere near the Himalaya, because it's closed to the public. The Gem and Mineral Council has been allowed to take a small group annually for a number of years.
At the base of an enormous pegmatite rich in tourmaline crystals, Tony Kampf, Museum curator, told us how gem-producing pegmatites are formed. Yesterday, when we were out rock-hounding on our own on the slopes of Mt. Tule, we were thrilled to find two-inch schorl cyrstals. Today we were looking at crystals nearly a foot long.
Before heading back to civilization, we spent a couple of hours sifting through a mountain of mine tailings. Some of our tripmates found some beautiful specimens, but we were among those who came away with photos and memories. Maybe if we come back next year, we'll have better luck!
As we were leaving, Dorothy Ettensohn, Museum collections manager, told us about other trips sponsored by the Gem and Mineral Council. "The Council offers trips to tour mines and see collections all over the world that are closed to the public," she said. "We're going to Brazil next month."
Brazil's not on our itinerary at the moment, but we were glad to have the chance to visit the Himalaya with the experts.
For more information about the Gem & Mineral Council of the Natural History Museum of Los Angeles County, visit the Council online by clicking here.