The Phoenix One Journals Stories from the dawn of RoadTrip America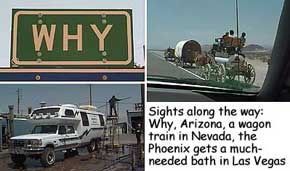 The latest PHOENIX ONE JOURNAL! Click here.
The Phoenix covered quite a bit of ground this last week. Monday found us at Mark Twain High School in San Diego.
Heading east, we paused in Yuma, Arizona, to tour the historic Territorial Prison. It has one of the best views in town of the Colorado River, but offered a harsh lifestyle to the residents it housed in the late 1800's.
Farther east, we stopped in Gila Bend, Arizona, which, as the name suggests, is where the Gila River makes a right-angle turn. It was here we finally found the ostriches that had eluded us in Southern California! We toured Ken & Donna Fackrell's Gila Bend Ostrich Ranch and met eighty-one of the big birds, including a ten-day-old chick. The next morning, we were treated to breakfast burritos ala ostrich, a memorable taste treat.
We also met Tim Viens in Gila Bend and marveled at his latest project: building a pickup truck from parts salvaged from junkyards and trash heaps. He's almost done, and he hasn't spent a cent!
Before leaving Gila Bend, we drove out to Paloma Ranch, a huge spread once owned by John Wayne. Here we saw first hand how custom harvesters bring the wheat crop in, and we even got to ride in combines owned by Myers Harvesting.
A speed run across Arizona, Nevada and California has brought us to Eureka, California, where the annual Kinetic Sculpture Race has taken place every Memorial Day weekend for the last 27 years. Check back tomorrow for some amazing pictures of speedy art!