Bad Guys Go To Jail

YUMA, ARIZONA—
Yuma may not get much rain, but it really doesn't matter. Located at the confluence of the Colorado and Gila Rivers in Arizona, this historic town has been agriculturally and strategically important for hundreds of years.
A visit to the Yuma Territorial Prison State Historic Park gave us a peek back into the history of the area. The first cells were built in 1876 by seven inmates who then took up residence. During the prison's 33 years of operation, 3,062 other prisoners, including 29 women, served time within its walls.
Although the prison had a "dark cell" used for punishment, it also providing instruction in reading and writing to inmates and housed one of the first public libraries in the Arizona Territory. One of the earliest electrical generating plants in the West furnished power for lights and ran a ventilating system in the cell block.
It was definitely not paradise, however, and many prisoners attempted escape. Twenty-six were successful, and 8 died from gunshot wounds. Unsuccessful escapees were dealt with in classic fashion: they were chained to iron balls. No executions took place, because capital punishment was administered by county governments.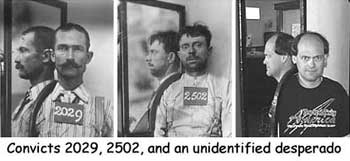 Record keeping at the prison was excellent, and that's what makes a visit to the museum such a vivid experience. Every inmate was photographed next to a special mirror that provided an automatic side view. The mirror is set up for tourist use today, and, as you can see in the picture, it still works perfectly!
By 1907, the prison was severely overcrowded, and a new one was built at another location. The "campus" housed Yuma Union High School for four years, and later provided free lodging to hobos "riding the rails" in the 1920's. Homeless families took shelter in the abandoned buildings during the Depression, but as the structures fell into greater disrepair, locals started harvesting building materials from the ruins. Fires, weather and railroad construction caused further destruction, and now only the cells, main gate and guard tower remain to give modern-day visitors a glimpse of prison life in the wild west.
Yuma Territorial Prison, Box 10792, Yuma, AZ 85366-8792
Telephone: (602) 783-4771