The Phoenix One Journals Stories from the dawn of RoadTrip America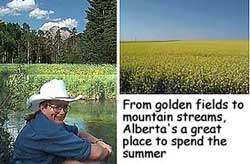 We finished up a rip-roaring good time at the Calgary Stampede by going to the wildest event of all, the Chuckwagon Races. A visit with professional bull rider Phil Pacaud took us to a rodeo in Three Hills, Alberta, northeast of Calgary. There we saw Phil compete and also met Dennis Halstead, a professional rodeo clown and "barrelman."
Highlights of our week included dinner at the sophisticated Calgary eatery Teatro and the discovery of a truly unique set of wheels, the one and only "Cowvette." We also met Stephen, Mandy, Rachel and Joel Hambidge. Stephen is the pastor of an unusual "church-in-a-box" in Calgary. And yes, we found an excellent GIZMO!
The Phoenix started making weird and worrisome sounds while we were at the rodeo in Three Hills, and we stopped at Westergard Motors in Drumheller to find out what was wrong. Thanks to the attention of Kevin Burfield, we were saved from what might have been a nasty situation. The bolt that holds the alternator in place was missing, and the alternator could have gone flying around the engine compartment at any moment.
After a new bolt silenced the Phoenix, we explored Drumheller, a town known far and wide for its dinosaurs. Tomorrow we'll take you to the Royal Tyrell Museum of Paleontology, a world-famous Mecca for lovers of large lizards.