Restaurants of the Road
More Eateries

Teatro

Calgary, Alberta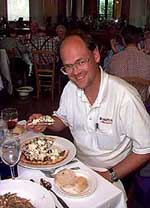 Teatro is an elegant Italian restaurant in a beautifully restored historic building on the edge of Olympic square in downtown Calgary. With its high ceilings and exquisite decor, it's easy to see why it was immortalized in one of the Folger's coffee crystals television commercials.
Happily, the food is just as delighful as the furnishings. Mark enjoyed the "Pizza of the Night," an innovative conglomeration of wild boar blueberry sausage, bermuda onions and button mushrooms. Passing up attractive dishes featuring thresher shark, venison, lamb, salmon and beef, Megan finally chose the whole wheat spaghettini with pine nuts and sauteed vegetables.
The dessert menu was tempting, but we decided instead to sample four vintage ports, including a marvelously complex Taylor Fladgate 40-year-old tawny. After a day of Stampeding, Teatro was a refined, delicate and delicious way to unwind.
Teatro
200 - 8 Avenue SE
Calgary, Alberta T2G 0K7
(403) 290-1012
7/96