Road Trip Destinations & Attractions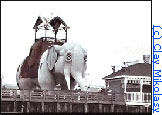 Lucy the Elephant guards the beach at Margate City, New Jersey

Extraordinary Wildflower Resource - Kris Light is an elementary teacher in Oak Ridge, Tennessee who has built an incredible database that can be used for wildflower dentification. Her site has photos of nearly 700 wildflower varieties in Tennessee and hundreds more in the western states. (1/14/07)
---
Roadside Architecture: This is one of the most amazing sites on the Web for roadside attractions. For several years, Debra Jane has been traveling around the country (her dogs compete in agility course events), and one of her passions is locating, photographing and writing about phenomena like over-sized ketchup bottles, unusual eateries, Paul Bunyans & other giants, bottle houses and merry-go-rounds of every type and function. This is a site that will make you chuckle as you wander the back roads with Debra as your guide. (5/21/06) (link updated July 19, 2019)
---
Legends of America: This new site by Kathy Weiser will enthrall history and nostalgia buffs and enrich roadtrips in the American West. This site is chock full of historical photographs, anecdotes, legends, tall tales, and ideas. (8/7/05)
---
Pennsylvania Summer Music: "Endless Mountain Music Festival" in Wellsboro, Mansfield, and nearby communities in late July. (updated May 25, 2021)
---
Society for Commercial Archeology: Maintains an excellent list of links and non-Web resources for locating vintage neon signs, old diners, unusual highway-themed architecture, and efforts to restore old highways and drive-in theaters (9/12/04)
---
Roadside Resort: For many years, Wesley Treat produced one of the zaniest road trip site on the web. The site is no longer being produced, but all of the original content is still there and still a great place to find a laugh or two. (07/19/19)
---
Extreme Factory Tours: The "Factory Tour Capital of the World", York, Pennsylvania, invites guests to tour eighteen factories, including Harley-Davidson, Sunrise Soap Company, Bluett Bros. Violins, and Snyder's of Hanover. They also have an annual Made In America Event. (6/6/04) (updated July 19, 2019)
---
Enchanted Highway: Remarkable sculptures of geese, deer, and a very large tin family created by Gary Greff line the highway near Regent, North Dakota (just off Exit 72 on Interstate 94). (5/30/04) (link updated October 25, 2019)
---
2010 Quartzsite Show: One of the largest hobby, craft, classic car and gem show in the world occurs each January in the Arizona desert just east of Blythe, California on Interstate 10. Click here for RTA's story about this famed show.
---
Geoglyphs: Ancient & mysterious stone creations on CA Highway 95 near Blythe, California (link updated July 19, 2019)
---
Lucy the Elephant, Cowtown Rodeo (in operation since 1944), and the Leamings Run Gardens are three unique tourist destinations in southern New Jersey described by documentary filmmaker Clay Mikolasy.
---
Autumn Color Reports & Destinations: Links for great fall road trips
---
Winter Road Trips: Links for cold weather destinations and resources
---
Fort Monroe, Virginia: Continuously garrisoned by the Army for over 150 years, Fort Monroe is a fascinating study in living history. (link updated July 21, 2019)
---
Art & Music Festivals: Comprehensive list of venues world wide.
---
Old Warbirds Never Die: They keep on flying at the Planes of Fame Museum at California's Chino Airport.
---
Alaskan Travel Coupon Book: Two-for-one deals and some free attractions in America's "last frontier." (link updated May 22, 2021)
---
Motel Architecture: Fascinating photographs & articles from 33 U.S. states
---
Family RoadTrip: Produced by WGBH Boston, this site features descriptions of ten U.S. destinations from Oak Bluffs, Massachusetts to Disneyland, California. Other stops include Yellowstone, Great Smoky Mountains, and Six Flags amusement park in Texas.
---
Need for Speed? Travel columnist Anita Dunham-Potter reviews "Dragster," the tallest roller coaster in the world at Cedar Point, Ohio.
---
Canadiana! An extraordinarily comprehensive photographic database of odd and amazing roadside attractions all over Canada, including the world's largest truck.
---
Texas Road Trips: A superb collection of articles, photos, and great information about historic buildings. The site also includes lots of little-known facts -- did you know that Texas has over 48,500 bridges, more than any other state?
---
Factory Tours! Scroll halfway down this page for a great list of factory tours compiled by Marshal Brain, who wrote the How Stuff Works series.
---
Wildflower Sighting Reports for California, Arizona, Nevada, New Mexico, & Texas: This outstanding service of DesertUSA.com includes logs and user-contributed photos
---
Roadside America: Offbeat (but right near the road!) tourist attractions
---
Mile by Mile: This commercial site includes a list of itineraries in the United States and Canada. Businesses located along the routes provide information and descriptions of attractions and places to eat and stay. There's also a fun travel trivia game and a good photo gallery of views from the routes described.
---
Gold Mine Website Links: A list of web sites for exploring the deserts of the Southwest (link updated December 11, 2021)
---
Really Tacky Roadside Attractions! This is one of the best collections we've seen, compiled by Steve, a self-described "tackaholic." 11/01
---
Preservation Directory: It's taken Tim Cannan about a year to create this remarkable site dedicated to historical preservation in the United States. The directory is divided into seven sections and seeks to be the one-stop shop for those looking for primary source material. It is also one of the best sites we've found for finding information about possible destinations for roadtrips! 10/01
---
Cool Site! If you have a hankering for info about any U.S. state, start your Web search at 50states.com. You'll find links galore in an easy-to-navigate format.
---
ARIZONA & NEVADA
The Hoover Dam bypass project: Re-routing Hwy 95 over the Colorado River (link updated July 19, 2019)
---
CALIFORNIA
Explore Ghost Towns in California: A list with photos and descriptions (link updated December 11, 2021)
---
NEBRASKA
The Great Platte River Road Archway Monument, which arches over Interstate 80 near Kearney, Nebraska, is the only historical attraction that spans an Interstate highway. Thanks to Greg Smith of Omaha, Nebraska, for recommending this unique attraction. Greg adds, "FYI, the Great Platte monument appears in the new Jack Nicholson movie About Schmidt."