Rock, then Roll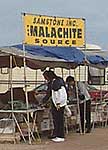 QUARTZSITE, ARIZONA—
At the junction of Highway 95 and Interstate 10, on the western edge of Arizona, lies the quiet town of Quartzsite. At least it's quiet in the summer, when the population hovers around 2,000.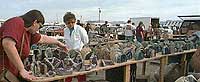 Winter, however, is a whole other story. No less than one million visitors make their way here, most in RVs and trailers. Snowbirds, vendors, collectors, hobbyists and rockhounds descend on Quartzsite, and the height of the excitement is The Main Event Gem and Mineral Show in January and February.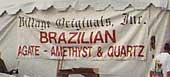 Rocks are definitely the uniting theme around which everything in Quartzsite's winter encampment revolves. Tables and tents full of geodes, crystals, and stones from around the world extend for acres, and inventory is piled everywhere.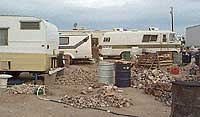 Lithophiles aren't the only people who love Quartzsite, however. There's plenty of other stuff for sale, too, and the variety is endless and amazing. It's a swap meet addict's dream.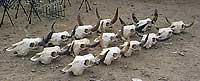 Are you looking for the perfect cow skull for your den? Where else can you choose from a selection of hundreds?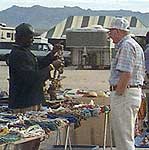 Or perhaps you like African art, international flags, leather jackets, pipes, rugs, tools, jeans, antique cars, World War II mementos, camping gear, water filters, chainsaw scuplture, dried peppers, books, shirts, hats, cactus, hand made brooms, jewelry, spears, furniture, gold nuggets... about the only kind of merchandise we didn't find was computer components. They wouldn't do too well in the dust.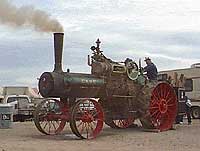 The best part of our visit was the special antique engine show we happened upon. The Smithsonian would be jealous of the collection of functioning steam engines we saw, including the big one pictured here. It was only one of many well-oiled steamers huffing and puffing for the edification of thousands of visitors.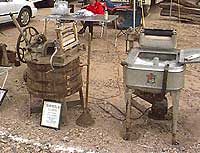 Everywhere we turned, old machines thumped, agitated, sloshed, turned and hammered. We saw washing machines, pumps, jack hammers and sewing machines as well as several gadgets we couldn't identify. It was a vivid excursion back to the turn of the century, complete with sights, smells and noises.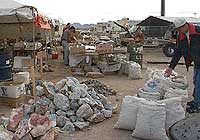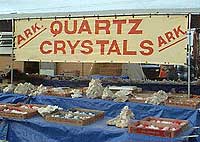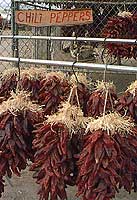 For more information about seasonal and year-round events in Quartzsite, contact the Quartzsite Area Chamber of Commerce & Tourism:
1240 W. Main Street Box 640
Quartzsite AZ 85346
(928) 927-5600
(Updated 6/21)
Or visit www.quartzsitervshow.com