Planes of Fame in Chino, California
Old Warbirds Never Die...They Keeping Flying in Chino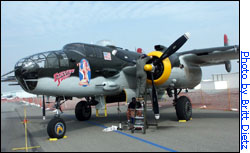 A B-25 Mitchell bomber gets a tune-up at Chino Airport
CHINO, CALIFORNIA —
[Getting There][RoadTrip Facts][Links]
The throaty rumble of an idling World War II P-51D fighter, once heard, is never forgotten. The snarling roar of the 12-cylinder Merlin engine on its nose can be heard and felt for miles when it lifts off the runway. Thanks to the Planes of Fame Museum, you don't need a time machine to experience these sounds from the past. You just have to head for Chino Airport in southern California.
RoadTrip America Recommends
In Association
with Amazon.com
Whether you're an aviation buff looking for a unique destination or a southern California resident with an interest in airplanes and flying, Chino Airport and the Planes of Fame Museum make a great roadtrip destination and are an easy drive from anywhere in southern California.
Most museums are filled with once-useful artifacts that are now only relics of the past. While the Planes of Fame Museum houses its share of aviation mementos, it also offers something far more unusual and exciting: historic planes that still fly. You never know what you'll see taxiing or flying by at Chino - trainers, bombers, fighters, antiques. It could be any of them, because the airport is also a center where museums and private collectors restore military and civil aircraft of all kinds.
Planes of Fame hosts special events and seminars on the first Saturday of each month. If the weather cooperates, planes from their collection are flown after the presentations. These events provide a unique opportunity to meet and hear men and women who made aviation history and to watch aircraft you'll never see flying anywhere else.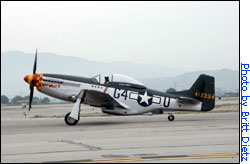 A P-51 Mustang prepares for take-off
On my latest visit, I attended a seminar on air commando operations presented by men who flew these challenging missions in World War II, Korea, and Viet Nam. After the fascinating talks, the museum cranked up their P-51D and a B-25 and flew a number of low-level passes. They also offered rides in the B-25, but you need a heavier wallet than I have—the requested donations for flights go upwards from three figures.
The Planes of Fame collection is eclectic, ranging from an 1896 Chanute Hang Glider to relics of the early space age. It includes more than 150 aircraft, and over 30 of them are flyable. Primarily U.S., Russian, and Japanese, many of these are the sole surviving examples of their type. One remarkable specimen is the only totally authentic Mitsubishi "Zero" fighter in the world, complete with its original engine.
Parked in and around the display hangars is a small collection of military ground vehicles from World War II, and you'll also find a huge assortment of aviation trophies, photos, models, and other memorabilia. Among the mementos is aviation pioneer Roscoe Turner's 1933 Bendix air-racing trophy, on loan from the Smithsonian Institution in Washington.
—Don Woodmancy
June 8, 2003
ROADTRIP FACTS
Time to allow: For a weekday visit or on weekends when there are no special events, the museum can be browsed in 2-3 hours. Many people interested in aviation take longer to consider specific displays.
Location/Phone/Admission/Special Events: The museum normally has a special program, including flights of war birds, on the first Saturday of each month. Check their Web site for information.
What to bring: Slow and fast film or digital camera; walking shoes, sun hat, binoculars if attending a special event.
Food: Hotdog stand just outside meeting area; Flo's Café nearby.
Area Attractions: If your companions do not share an interest in airplanes, Ontario Mills, one of the largest and most unusual shopping malls in the western U.S., is just a few miles up the road. Or, if you are going in mid-September, a visit to the Los Angeles County Fair in Pomona, "the largest county fair in the world," might be in order.

LINKS
Planes of Fame Museum
Ontario Mills (Shopping Mall)
Los Angeles County Fair
Flo's Airport Café
GETTING THERE
From Union Station in downtown Los Angeles, take I-10 (San Bernardino Freeway) 24.8 miles to Cal-60 (Pomona Freeway), 10.3 miles to South Euclid Avenue, then turn right (south) 3.5 miles to Merrill Avenue, then left 0.2 miles along the airport boundary to the Museum.