The Phoenix One Journals Stories from the dawn of RoadTrip America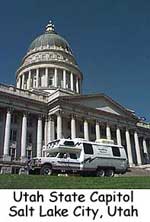 The Phoenix One has been stationary this week, basking in the moist breezes and occasional thunderstorms characteristic of St. Charles, Missouri, in late summer. We've been doing what fishermen call "mending nets," which means the Phoenix now has a roadworthy spare tire and a head door that stays closed. In another couple of days, she'll also boast a watertight windshield, and a refigerator that stays cold. We'll be hitting the road again on Thursday.
In the meantime, we've been bringing you some great stories that flew by us back in Idaho, Nevada and Utah. We took you to the Nez Perce National Historical Park in Spalding, Idaho, and visited Steven Shephard, owner of Salmon River Outfitters in McCall. We rode on Engine 40, a steam locomotive in Ely, Nevada, and then headed for Las Vegas, where we stayed in the lap of RV luxury, Boomtown RV Resort. We also saw a sign that left us mystified near Park City, Utah.
Next week we'll be bringing you great stories from Utah, Kansas, and Washington before we begin exploring St. Louis and environs.


Mark Sedenquist, Megan Edwards, & Marvin the Road Dog
8/96