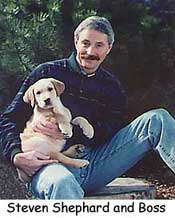 As we left Steven Shephard's house in McCall, Idaho, he was also leaving, "to cheat death on the south fork of the Salmon." For Steven, cheating death is all in a day's work. He's the founder and owner of Salmon River Outfitters, one of the most famous whitewater companies in the west.
Salmon River Outfitters is known for short as SRO, and it's not a bad nickname. Steven's trips are so popular he could sell standing room. As it is, however, everybody sits, first in rafts or kayaks as they float down the majestic canyons and gorges of Idaho's most famous waterway, and then at multi-course gourmet feasts. It's no wonder people come back year after year. Where else can you combine wilderness camping, whitewater thrills, and haute cuisine?
Mark knows about the magic Steven can work with Dutch ovens and camp stoves. He took a trip back in 1986 and he's never forgotten it. "Steven's probably on the river," said Mark as we neared McCall, "But I'll give him a call anyway." Miraculous synchronicity allowed us to have lunch together, and we also got to meet Boss, Steven's new puppy. "I remember old Boss," said Mark. "Yes, he was a great river dog," said Steven. "I named this one Boss, too, because I like being able to say, 'Go talk to the Boss,' when anyone complains."
Complaints, however, are rare on an SRO trip. Mouths may be open, but they're either gaping at the scenery or eating. I took a brochure. One of these days, I hope I'm lucky enough to cheat death with Steven.