Nez Perce National Historical Park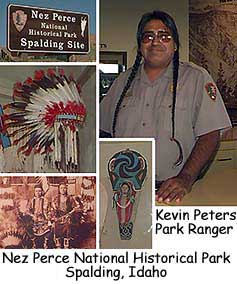 SPALDING, IDAHO—
On a blisteringly hot day in southern Idaho, we stopped at the Spalding site of the Nez Perce National Historical Park, and were pleased to find an air-conditioned visitors' center with excellent displays of Nez Perce bead and leather work, bows and arrows, ceremonial clothing and even a reconstruction of a sweat lodge.
Park ranger Kevin Peters told us about the park's famous collection of over 5,000 historic photographs. A selection hangs on the wall of the theater, where we watched a movie about Nez Perce culture and history.
The Nez Perce park includes twenty-four separate sites, and it's a 400-mile trip to visit all of them. We decided to visit the White Bird Battlefield, where the Nez Perce fought the U.S. Army on June 17, 1877. Thirty-four soldiers were killed, and the Nez Perce lost none. It was the first battle fought by the Nez Perce over the right to inhabit their homeland. Gold had been discovered there in 1860, and an 1863 treaty reducing the size of the reservation by 90% had been signed by one group of Nez Perce. The other group, which became known as "non-treaty," refused to give up the right to live in their ancestral lands. This group, under the leadership of Young Joseph, continued to elude the U.S. Army for months, but finally met defeat 40 miles south of the refuge of the Canadian border in October, 1877.
Other sites maintained by the park include missions, forts, trading posts, rock formations sacred to the Nez Perce, and an archaeological dig.