The Phoenix One Journals Stories from the dawn of RoadTrip America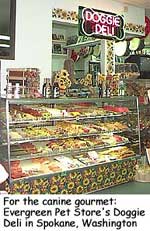 Wallace, Idaho, is having a memorable summer. When we arrived, a virtual volcano had just blanketed downtown with a heavy layer of simulated ash for the filming of "Dante's Peak." We met Leif Egertson, who was working as an extra in the film, and he told us about the Parlorhouse Cybercafe, a wonderful place to spend an afternoon sipping java and surfing the Web.
Our stay in Wallace was made especially delightful by Don & Jeanne Grebil, owners of Down by the Depot RV Park. They introduced us to Jerry McKinnon, who lives in a house he has single-handedly decorated with three spaceships and countless murals. Don and Jeanne also told us about Vern Pine, a master wood sculptor whose carving tool is a chainsaw.
The Phoenix One made tracks south from Wallace through Las Vegas, Nevada. We've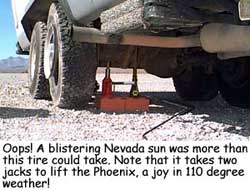 paused in Salt Lake City, where we've met some fascinating people we'll introduce tomorrow and the next day. Our adventures on the way to Utah will be coming your way the week of August 19. You'll visit the Nez Perce National Historical Park in southern Idaho. We'll introduce you to Steven Shephard, the Salmon River outfitter famous for serving his guests gourmet meals in the wilderness. In Ely, Nevada, you can ride the "Ghost Train" and meet Lynne Bjorklund, the only woman engineer in America licensed to operate both steam and diesel locomotives. While we bring you these features, the Phoenix One will be moving steadily eastward. See you on the road!