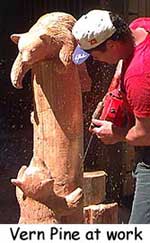 WALLACE, IDAHO—
Getting to Vern Pine's studio in the mountains near Wallace, Idaho, was an adventure in itself. They weren't on our map, but we wound our way through the villages of Woodland Park, Gem, Frisco, Black Bear, Yellow Dog, Cornwall, Mace and Burke before we recognized the landmark we were looking for, a wooden bridge that connects the road to Shifters Hill. The tiny towns nestled picturesquely up the canyon all have mining histories, and Shifters Hill was where the elite of the mines' staff lived, the shift supervisors.
The shifters are long gone, and in one of their former homes resides master sculptor Vern Pine. Vern was a contract miner until a back injury forced him to change careers, and he decided to pursue a lifelong interest in art. Natural talent and a skill he never stops honing have made him unique in his medium. Vern Pine sculpts wood with a chainsaw.
It's hard to believe that an instrument with a reputation for hacking and massacres can be a tool to create fine art, but Vern's bears and eagles bear witness to his ability to wield a chainsaw with the delicacy of a paintbrush. The process is a little louder, though, and Vern wears ear protection when he works.
"I like to freeze motion," says Vern, "And I try to make my sculptures as realistic as possible. People sometimes ask me if all I do is bears and eagles, and the answer is no. I do other subjects, too. But I like bears and eagles the best,and so do my customers."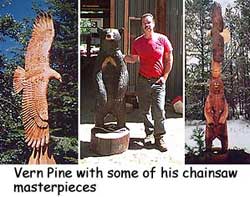 Vern exhibits his work in shows and fairs in Idaho, and especially enjoys doing live demonstrations. "I'll start working with nobody around," he says, "And a few minutes later, I'll look up, and fifty people are standing there."
After seeing Vern shape a cedar log into two bearcubs climbing a tree, we could easily understand why he draws a crowd. His skill seems nothing less than miraculous.
As we made our way back down the canyon to Wallace, we were wishing the Phoenix One had room for one of Vern's bear cubs. It was hard to leave without one, but for now we have to be content to save his address and know that he'll ship his work anywhere in the world.
Vernon S. Pine, Jr.
Wood Sculptures by Pine
P.O. Box 1041
Wallace, Idaho 83873
(208) 752-5561

8/96