WALLACE, IDAHO—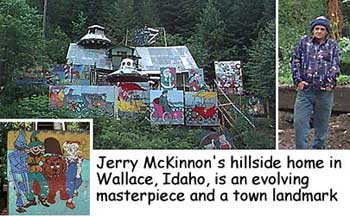 We knew before we arrived that Wallace, Idaho, has something even more special than historic buildings and a beautiful location. Mark had been through two years before, and he'd brought me a postcard of Jerry McKinnon's house. I'd wanted to visit this masterpiece of ingenuity and creativity ever since.
Did you ever design a dream house when you were a child? Jerry's aerie is what would have resulted if you'd actually built it. With three spaceships and a score of bright murals, it's the ultimate incarnation of a youthful imagination.
"We may not be able to meet Jerry," Mark warned me. "He's not one to receive guests. There are people who've lived in the town for decades who've never seen him." But when we asked Jeanne & Don Grebil, Jerry's closest neighbors, they had good news. "I think Jerry will want to talk to you," said Jeanne. "We'll call up to him in the morning and see."
The next morning, we waited at the bottom of Jerry's long wooden stairway while Don climbed halfway up and called. At first it seemed as though no one was home, but finally we saw a head emerge for a moment. Don came back down and said, "Jerry wants to talk to you. He'll be down in a few minutes."
We knew Jerry had recently celebrated his 64th birthday, and we were surprised at the youthful figure that danced nimbly down the stairs. He introduced himself shyly and told us about his work. "I've lived here 23 years," he said, "And I've been painting the whole time. Even when I was a child, I could do portraits, but it's taken me time to learn how to paint figures. I'm self-taught. I look at pictures in books to get ideas, and then I just keep trying until I get it right."
Jerry's art is not limited to painting, however. The three large spaceships rising from his roof and deck are wonders of three-dimensional ingenuity. The largest is actually a room, and the other two are kinetic sculptures that turn whenever a breeze catches them. Hundreds of mirrors reflect the afternoon sun, and the effect is truly other-worldly.
It's hard to believe, but Jerry's house is a one-man masterpiece. Everything you see was created by the artist himself, and he installed it all, too. "You put those spaceships up on the roof all by yourself?" we asked incredulously. "Yes," said Jerry. "I don't like to ask for help."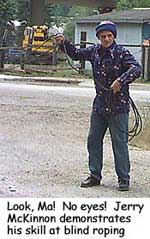 Jerry has talents beyond art, too. He got out his lariat and demonstrated remarkable skill at roping. More times than not, he can rope a post from thirty feet away with his back turned. His prowess made it easier to understand how a man his size can erect monumental art single-handedly. He obviously uses magic!
We finally bade Jerry farewell, and he vanished back up his long stairway to his hillside retreat. His preference for privacy means that he's often called a hermit, but it's an unjust title for a man who shares his art so freely with the outside world. "I'd rather call him the Leonardo of Wallace, but even that doesn't quite describe him," I said as we walked up the road. "He's more like a Peter Pan Leonardo," said Mark, "A genius who never let go of the wonder of childhood."